Have you ever been in a situation where you received mostly positive feedback, but let an incomparable amount of negative feedback completely bum you out?
Usually, this is not me,* but I am ashamed to admit that it was, yesterday. And what was I doing yesterday? Um, spectating a race. 
Yeah. This is weird. 
I made a race sign very specific for one person, xaarlin. It referenced a very goofy video, and featured the inside joke of calling xaarlin's dog the "red fox." I, um, really didn't expect anyone to get it but her. And I wasn't exactly planning on standing around holding it up until I saw her.
But! I got to the race a lot earlier than I thought I would. Before the first runner hit where I was at mile 4.5, in fact, so I camped out, held my sign up, and cheered on runners. 
To my surprise, A LOT of people got the joke on the sign. There were many laughs, "thanks for coming out"s, a few people talking back to me about the video, and some even joking with a "Thanks! Now that's gonna be stuck in my head!" And lots of compliments on how cute Hampton (her dog) is. 
And I was wearing the goofiest hat ever, which people really seemed to get a kick out of.*** Lots of comments on that, too.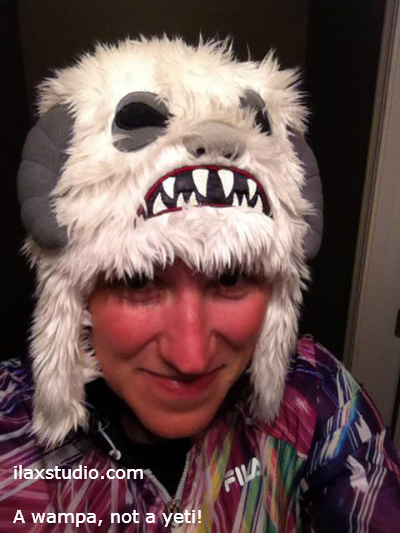 But… there was actually some negative feedback. From runners. The ones I was cheering on. They didn't like what I was cheering, and didn't like the sign, um, specifically, how long it was. I was told race signs should be three words MAX.
Um, okay. 
Those comments made me feel bad. 
And then thinking about how they shouldn't make me feel bad, because so many people were thanking me for spectating, made me feel even more bad. Ha ha ha. My emotions are complicated, ya'll. 
When I heard the negative feedback, I was thinking, "Am I misreading sarcasm?" But, no, it was general crankiness/unhappiness. 
Maybe some people don't like spectators? I just hope I didn't make anyone's race worse by being there!
What do you want people to cheer when you are racing?
No one EVER wants to hear "you're almost there!" or "only xx miles left"… right? I tried to stick with the cheers below, and tried to keep in mind that many people weren't even a quarter in to their race (it was a half, 20 miler and marathon):
general whooping and hollering
Go Runners!
You guys rock/are amazing/are kicking butt!
Keep being awesome!
Looking good!****
Keep pushing!****
You got this!
Today's your day!
Next time, I just need to shut my mouth and remember the cowbell!
(Also, I feel like I need to say that I was a bit emotional the morning of the race, um, maybe crying in the car a bit while driving down, because I was so excited for xaarlin. So, yeah. I am not taking this too seriously, but the fact that I did feel even the tiniest bit bad for being there weirded me out.)
*Because I only get positive feedback, duh!**
**So toads kidding.
***Some people thought I was this guy, ha ha!
****These are the ones people didn't like.
By
58 Responses to "Forget the bad; see the good"