A few people I know are able to list off what number of race they are on – "This will be my 9th half!" "I'm on my 200th 5K!"
Do you keep track (in your head?!) of how many races you have done/which number you are on of a specific distance?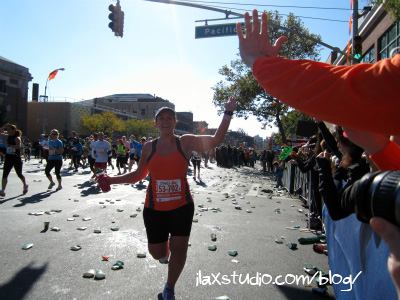 I can only remember, off hand, the amount of marathons, ultras, and relays I have done. I don't keep a running* tally going of the rest, and have a hard time adding them up based on memory. 
But! Rachel and I were discussing amount of races run while at the NFEC HM, so we both decided to add our numbers up! So I now know, as of today, how many races I have participated in since 2007:
5K: 48
3.5: 1
4: 2
5: 2
8K: 1
10K: 5
10: 1
Nautical 10  (11.5): 1
20K: 1
HM: 15
M: 5
50K: 1
Ragnar: 1 (and done)
10 Mile Relay (3 person team): 2
Tri Relay: 3
I think that adds up to 89? Gosh! Should I try to fit 11 more in for the year to get to 100? Um, no. Ha ha. 
So! Share your numbers, if you have them!
*Buah ha ha, pun. So, funny story. This am, Data was telling us how he wanted us to eat a salmon for breakfast. Something about eating its colon? Anyway, I said "Thanks for your culinary input, Data!" And Steven booed me. He thought I was trying to make a pun – colon-ary. Nope. Not that clever!
By
41 Responses to "How many races have you run?"