There's a route through a neighborhood I seem to run quite often with a group of friends. It's about two miles, and the road just winds and winds. We all agree, that despite each other's wonderful company, man, do those two miles ever seem to drag!
Well, as a group we almost always run in the street, including on that route. When I run solo or double, I prefer the sidewalk, unless it's covered in snow or super uneven.
So, I'd never run that route before, on the sidewalk. Always on the road. But during yesterday's long run, I made it part of my route, and took the sidewalk.
Holy crap! It's like I was on a new route! Being closer to the homes meant I was paying closer attention to them and what was going on between them and the street – the (Halloween!) decorations, the cars in the driveway (or blocking the sidewalk, grr), and especially the lines in the sidewalk.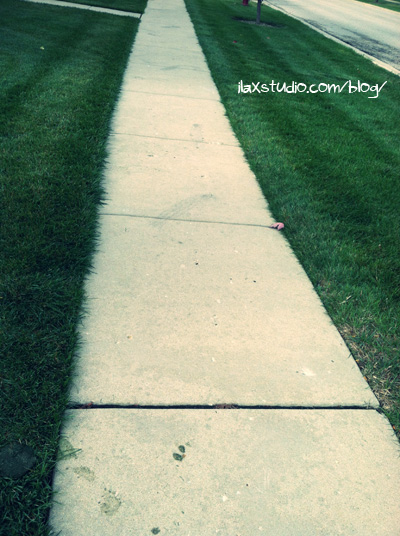 Why the lines in the sidewalk? Well, first of all, since I hadn't run the route on the sidewalk before (and since it was dark), I was watching for uneven spots. And secondly, the lines made me feel like I was making measurable progress. Running this route on the road always felt like I was on some endless winding path, but passing the lines in the sidewalk and crossing side streets told my brain I was making progress. It made the route seem shorter! So interesting (maybe only to me)!
Oh course, I do all my deep (ha ha) thinking on my early am long runs, and I started thinking about how the lines in the sidewalk – the "progress lines" – reminded me of how the best way to meet a goal is with little bits of progress, here and there. Not all leaps. Not all sprinting. Small and measurable.
If I was really cheesy I would talk about SMART goals and how uneven spots in the sidewalks could be "rough patches" in your progress, but haha, I won't go there!
And, I promise, I am not trying to make this about running. I just happened to think about it then. 
Anyway. 
When do you do your "deep" thinking?
It's kind of funny for me to call it deep, but, I guess it is my deepest thinking (ha ha) and it happens when I am running solo, especially in the dark. I think it's because I am free of distractions, and my body is going on autopilot, so my brain just gets to wonder and ponder. 
By
11 Responses to "The lines in the sidewalk"