Do you or your partner talk in your sleep? What are some of the silly things you have said?
Steven and I both do. Sometimes what we said was so ridiculous we remember it first thing in the morning. And sometimes, it's later in the day, or a few days later. 
Luckily, last night, I was awake, so I sent Steven a few emails: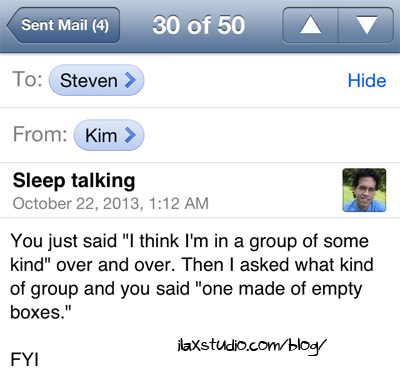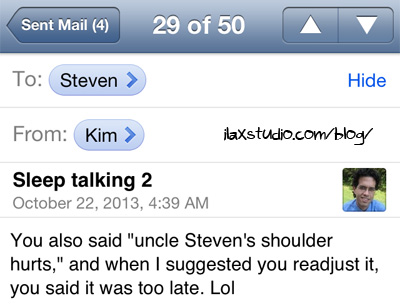 Gah, still laughing. Steven laughed when he read the emails, too. He said he remembered saying that stuff.
And I am not trying to make fun of him! I do it too! A few times in the past several months, I have fallen asleep before Steven, then woken up* to the lights still on and insisted there was writing on the walls or ceiling. Yet, I can never make out what it says. Maybe, "You're crazy! Go back to bed!"? Ha ha ha. 
*So maybe that is NOT sleep talking, if I am slightly awake. Oops. 
By
21 Responses to "Sleep talker"