Well, no lost sock story will EVER beat this one, but I thought this was funny.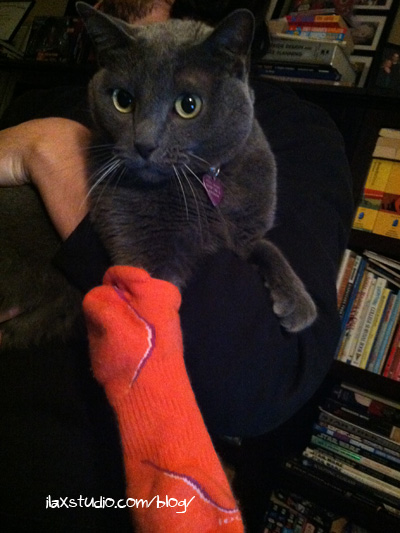 After the race in Lincolnwood* today, I was walking back to my car and noticed one pink SmartWool sock on the ground. "That's funny!" I thought. "Someone must have also run the North Face Endurance Challenge and gotten the same pair of pink socks in their goody bag. But why the heck would it be out here on the sidewalk?!"
Sigh. 
Flash forward to a few minutes ago, I am putting away laundry, and hmm, wow, only ONE pink SmartWool sock in the dryer. Is the missing sock stuck to a shirt? No. Stuck to a towel? No. In the dryer? No. On the path from the dryer to my closet? No.
Mutha F*@%#!!! That was MY sock! My freakin' sock is probably still on the sidewalk in Lincolnwood. I pulled a coat out of the dryer to wear to the race this morning. The sock must have been stuck to the coat and fallen off during the walk to the race start or something. 
Hey! At least I know where the sock is, right? So I won't lose my mind looking for it? Ha ha ha. 
You totally know I am going to email the race and asked if anyone turned in one pink sock. Ha!
What is the silliest place you have ever lost/left behind something?
*yes, 40 miles from home
By
14 Responses to "My sock is lost… and it's 40 miles from home"