Shh! I broke the "rules" at the Lincolnwood Turkey Trot on Sunday- I wore the race shirt to do the race!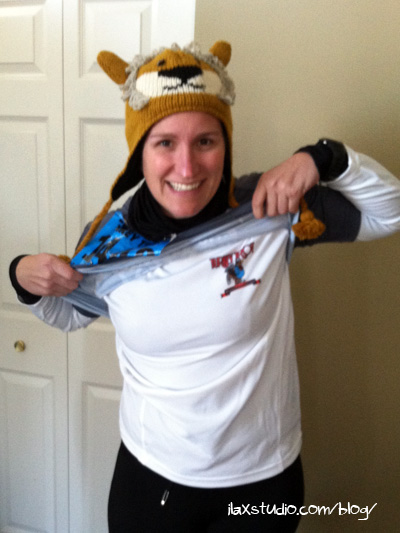 It wasn't planned, but it was absolutely necessary! Don't turn me in! Ha ha. On the ride down to Lincolnwood, I realized it was 13°F out, 10 degrees cooler than my run the day before*. And I had been cold on the previous day's run… while wearing more clothing than on my way to the race. Oops.
So when I picked up my packet and saw a long sleeved tech tee in it, I was excited to have another layer! I even had an extra pair of gloves in my car to layer up my hands, too**. I think I'm just going to leave some extra gear in the car for the future*** – I won't always be that lucky! Do you leave any running gear in your car?
Anyway.
Erin has told me how great this race is in the past – especially how flat it is and easy for spectators to find their runners.  I've wanted to do this race for awhile and this is the first time it's worked with my schedule! Anne showed me a deal to do it for a discounted price and we both signed up to do the 5k together! Erin ran the 10K, and my friend Kelly from Essential Fitness did the 5K too!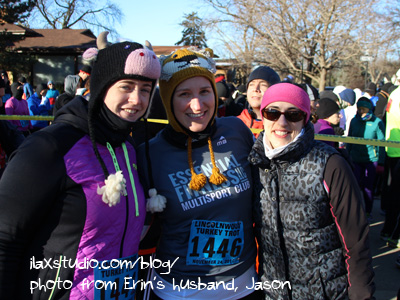 Anne, me and Erin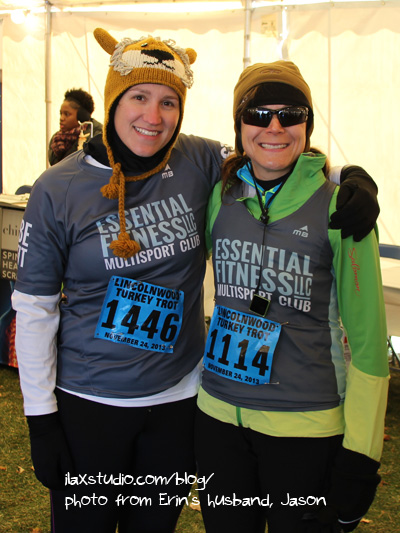 Me and Kelly
Thanks to Erin's husband for the pics! Steven was planning to come spectate, but he's sick. And standing outside in the cold seemed like a bad idea!
Lincolnwood is just north of Chicago, and the race start was super close to the highway, so it was quick to get to, and easy to find, with free parking. I loved that it didn't start until 8:45 am and I got to sleep in until 6:30. Woo hoo! I don't mind a race start at that time when it's cold out****! And they had a sponsor tent and fire pit to hang out in and stay warm before the race. I actually got there a bit too early since it was such an easy drive so I just hung out outside until I saw my friends. I even used the race's gear check. Normally I just throw my stuff in the car, but I wanted to keep my coat on a little bit longer this time. Ha ha. Anyway, it was great to have that service offered! I think they announced that it was the 38th year of this race, and they really have the organization down. 
Oh! The actual race! Hee hee. Our plan was to take it easy! I am coming off the marathon, Anne was recovering from the flu, and we just wanted to have a good time. We were successful! The sun was shining, the course was pancake flat, and the race went off without a hitch (even thought it was so cold that I almost slipped at the aid station because all the spilled water had turned in to slick ice! ha ha). The sad part is when it ended and we didn't get to chat any longer. We'll have to take more time at the next race/run. It's just so nice to catch up with a friend by doing a race together. 5K's just not enough! Or maybe I talk too much? Nah…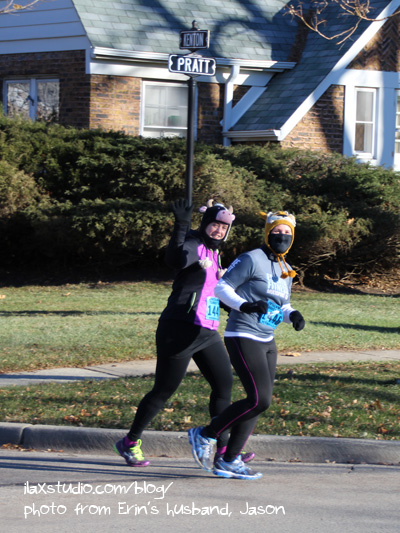 *But less windy, which does count for something.
**This walk to the car to change must be when I lost the sock? Who knows. Ha ha. 
***Or, I could actually go outside and see how warm I feel in my outfit before leaving the house. Ha ha. I just tend to dress really cold for runs and am usually okay. Not so much this weekend. Derp. It's not like they announced 5000x on the radio how cold it was going to be, or anything. 
****In the summer that would be a deal breaker!
By
13 Responses to "Lincolnwood Turkey Trot Race Report"