A daily running streak, that is.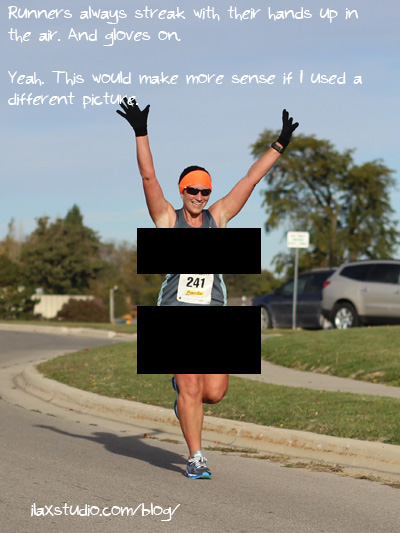 I've seen a lot of people pledging to do the Runner's World Running Streak – run at least one mile every day from Thanksgiving to New Year's Day – and asking if others are going to join them. 
From the Runner's World site:
We know how easy it is to fall off the running wagon around this time of year. If you're a training-plan devotee, you might be in the dead zone—your fall goal race is over, but it's too early to start a plan for your spring goal. If you're more of a free spirit—you run how far you feel like running, when you feel like it—you might skip a run (or two, or several) after a late night at a holiday party, a day spent braving crowds at the mall, or a long trip to see far-away family.
The streak is a great idea if you fit in to the categories mentioned above – off a plan and feeling lost, or worried that you won't fit the miles in with the busyness of the season. Or! For anyone looking for a fun challenge. And I think it's smart to have one mile "rest" days, as they recommend. 
But I don't think I will be doing it this year, based on what I learned about myself from the running streak I did last year. 
In 2012 I ran every day from December 1 – January 2. I decided to start it on December 2 because I had already run the first two days of the month, and why not keep going? I was also hoping to get more miles in than November*. I was originally just going to run at least a mile a day, but then Slowing Tri-ing set up a 5K a Day Challenge for December and I joined that. And looking back at my posts about the challenge, you would think I would be doing it again this year:
 But there were some not so good parts about it:
I think the big thing, which apparently I didn't write too much about (?) was that when it was all over, I felt like I had really let go of my endurance, because I was running a 5K**, or not much more, most days. And that was my choice, of course. But in January, I was annoyed to have to build my endurance back up a bit. I like to be able to run 15 milers whenever I want. The way I did** the challenge didn't keep me in that state. So. Anyway. 
I am hoping my December 2013 will be like a normal month of the year for me – run 5-6 days with at least one double digit run each week. Hopefully lots of fun in the snow. Rest days with no exercise. 
Side note: when I started running (and sticking to it) back in 2007 I found the month of December to be really challenging to fit workouts in. Of course, I was commuting three hours/five days a week, and actually going to stores to buy holiday gifts, and all that. It's nice now, to have my time management figured out****, and to approach December without the worry of how I will fit it all in. I know I'll get in what I want to get in!
Are you streaking this holiday season? Or planning out how you will make this busy time of year work for you?
*which typically ends up being a low mileage month for me, following an early November marathon
**I think it could definitely be more structured and still include "purposeful" running (you know, speed work, tempos, etc. – all that stuff I favor "junk" miles*** over), and I could have included longer runs. But once I  had the " 'only' a 5K" a day mindset, that was often all I wanted to do. 
***Junk miles for me = I run for fun. 
****And a WAY more flexible schedule. 
By
41 Responses to "Why I won't be streaking this year"