I was driving past a high school last night and they had a big neon sign near the street that flashed "Be a defender," then, "Not a bystander."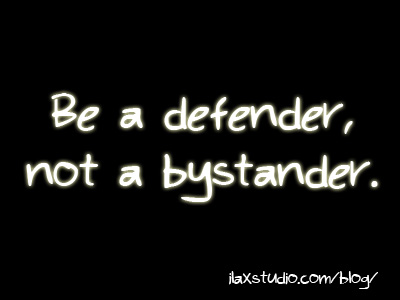 Right away, I got that this was a bullying reference - a simple reminder to speak up when you see someone being bullied, and not just stand by, watching. What a great reminder, even if it's easier said, than done. 
And while I saw this sign at a high school, and it's obviously very important to teach kids about bullying, I don't intend for this post to be about children. Because… I don't have any, so what the eff do I know? Ha ha. What I was really thinking when I drove by that sign, was that while it was at a high school and was aimed toward kids, what a great reminder it is for random adults driving by, like myself. 
A great reminder for adults who are experiencing bullying (because while it may be more likely to happen in a school environment, that doesn't mean it stops then) or, who just need the reminder to speak up, and defend something. Defend your principles, defend a company's culture, defend your choice! 
I think we sometimes do need that reminder! A reminder that it's okay to voice what you want, or that you are unhappy/uncomfortable with a situation. It doesn't mean you will always get what you want, but it sometimes feels better to know you voiced your opinion.
Ha ha. And I am not trying to encourage being argumentative. Just speaking your mind, when appropriate, so you feel at ease with the situation you are in.
And that… is what I got out of seeing a flashing sign at 8:00 pm last night. Ha ha. 
Are you likely to speak up when you feel uncomfortable with something?
I am (unfortunately?) outspoken at times, and this actually got me in a bit of "trouble" last year. I wish I could share that story!
By
14 Responses to "Be a defender, not a bystander"