Don't worry! This is not a how-to… as usual, I am just asking you guys what you think!
The other day I posted this on my personal Facebook page: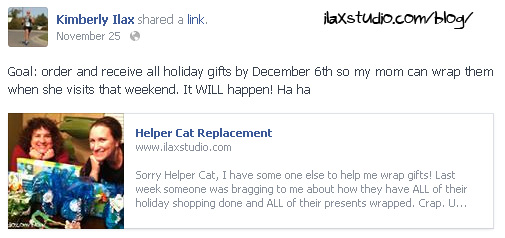 Update: a lot of gifts are ordered. I am getting there! And Anne said she would help me wrap gifts in late December. Schweet!
It was kind of weird that I posted a link to my blog on my personal Facebook page, which I don't think I've ever done before. I like to keep the two Facebook pages separate (for work privacy reasons, and to avoid content duplicity). 
But a lot of people post their blog links on their personal Facebook page, or post the same content on their personal page and their blog page. And I imagine some people post the same content across all platforms (blog, Facebook, Instagram, Twitter… what else is there?).
So I was just wondering, if you use more than one social media platform, how do you decide what to post, where? 
I keep my blog to one-topic posts (unless it's Random Thoughts Thursday) that I have a bit to say about. I use my Facebook blog page to link to those posts and to post little things that I won't blog about, or share links. So, I think of the Facebook page as supplemental "content."
And my personal Facebook page… sigh. I would really like to go off Facebook, but I keep it going because I use it so much for my work as a personal trainer at Essential Fitness. And actually, my issue is separate from the question I asked above (ha ha, oops), since I am only on two platforms – the blog & Facebook. I struggle with what to post on the same platform. Since I started a Facebook page for my blog in June of 2012, I sometimes have a hard time deciding what to post there and what to post on my personal page. I try not to double post too much. Or if I post about the same thing on both, say something different or use a different picture. 
And yes! This post is completely hypocritical because I am doing exactly what I said I try not to – recycling "content" someplace else! Ha ha!
As always, this blog and the social media stuff is just for fun. I am not losing sleep over all this. Just wondering what your thought process is behind it all, if you use the same platforms – or especially if you use more! And since I obviously overthink everything, this post will probably help you understand why I stick to two platforms!
By
20 Responses to "What to post, where"