Time to brag on my girl, Gina! She ran her first (almost) half marathon this year in February, a redemption one two weeks later, and a third half marathon yesterday. I don't know about you guys, but after my first half marathon, I didn't run another for a full year*! Go, Gina, go! I am super proud of her! 
Oh! And the awesome thing about this half marathon is that it was the full half distance (ha ha, unlike the first one) and that we got to run it together. New couple personal distance record (CPDR?)! Awww!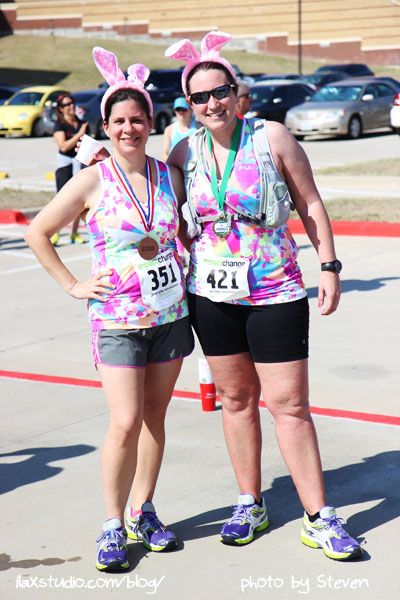 The Trek the Trails Half Marathon was in the town she lives in – McKinney, Texas. It started at a high school, followed a road, then quickly got on a paved trail.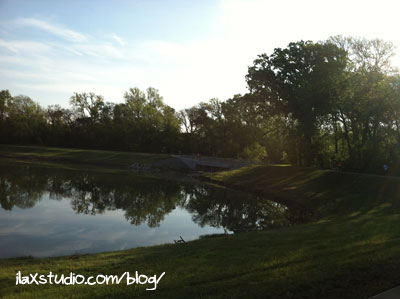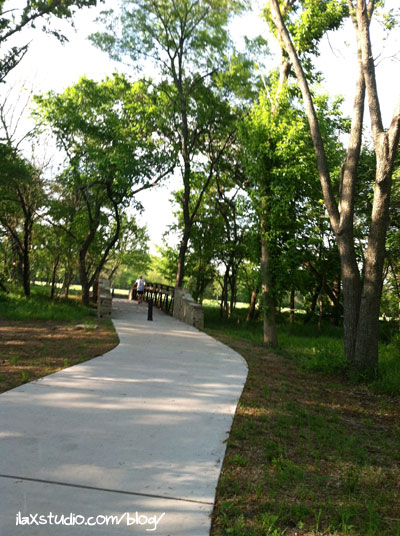 The trail was gorgeous! And I really liked the parts of the trail that were shaded, as there was hardly any cloud coverage from the sun, and surprise, surprise, Texas is a bit warmer than Illinois right now!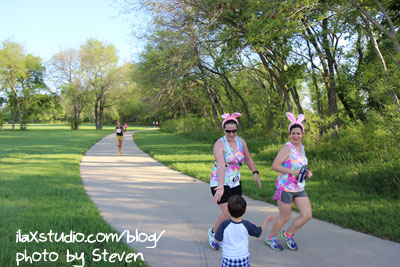 I was actually a bit concerned about getting overheated and feeling lousy, like I have on a few recent "hot" (not really) runs. But we kept the pace easy and I took some electrolyte tabs, which seemed to help a bit! I was still hot and dripping in sweat (and it only got up to 68°F), but I felt fine and we were able to run the whole thing…
EVEN when we went through this tortuous hilly neighborhood loop that had hardly any shade.  Ha ha. We weren't really sure what the course was like. I thought it was a straight out and back, but it was actually an out, a little loop, then a BIG loop, off of the trail, through a hilly residential area. Then back on the trail.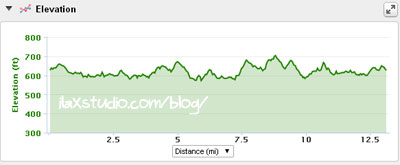 Needless to say, we were happy to get back on the trail! The course marshals and race volunteers were fantastic, and we were getting lots of "go bunnies!" and "I like your ears" when went through the residential area, but it was a bit mentally challenging. It was a smaller half marathon, and sometimes, it was just us, with no one else in sight! At one point I told Gina it just felt like a training run through a neighborhood (ha, which is really what it was, since we weren't going for a time goal). I was fine with that, but happy when we got back on the trail and we knew we were headed back.  
Since part of it was out and back we got to see the boys twice, which was a surprise!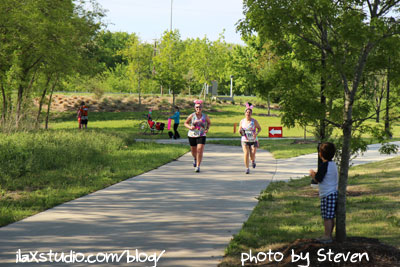 Our pace dropped the last few miles, but I was really proud of us for running the entire thing and dealing with the hot sun (Gina usually does her long run earlier in the day to avoid the heat!)! We saw a lot of people walking, and the fact that they were mostly local** and still struggling with the heat, made me feel better that I thought it was challenging, too. 
We crossed the finish line in 2:13:18 (2:13:17 for Gina, ha ha) and were very happy when we saw they didn't make us run a hill right by the finish, and when we found out that the course was an accurate distance. Woo hoo!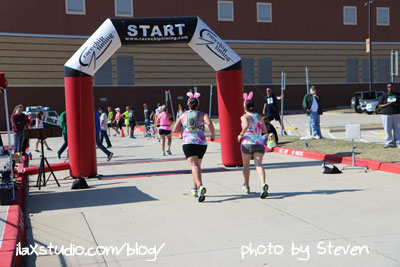 What a fun race! I enjoy doing longer distance events with friends, so we can chat and have a good time, and love that I can do that with Gina (well, you know, chatting until the last few miles when I am all "hot. brain no work."). I think it's so awesome she has kept her distance up (and even run over the half marathon distance!!!) since her first "half," and that she is continually challenging herself! And that she finds this fun – we actually signed up as a celebration of her birthday the day before. Woo hoo!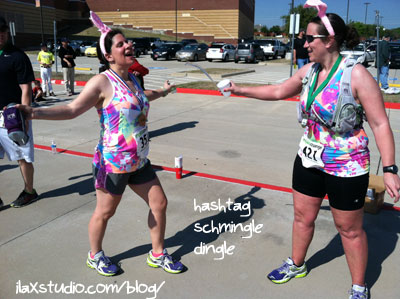 And I was very happy that we got to see our boys a few times on course! Ha ha – every time I saw them I thought, "they look so hot, in long sleeves!" But actually, it was really nice out, if you weren't running! Hee hee.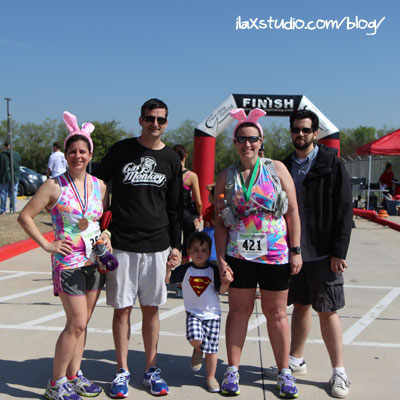 One last story. At the beginning of the race, this guy told us that his dog liked to chase bunnies (after seeing us in our bunny ears), which made us laugh. He passed us right away in the beginning, and I was like, "Gina! We can't let that dog beat us!" Ha ha. We only passed him, a little over half way through, because the dog stopped for a potty break. After the race, that guy told us he was trying to catch up with us the whole time after we passed him. I asked him a bit about training his dog to run longer distances, and he said the dog had actually done two 50 milers recently and this half was an "easy" run! Color me impressed!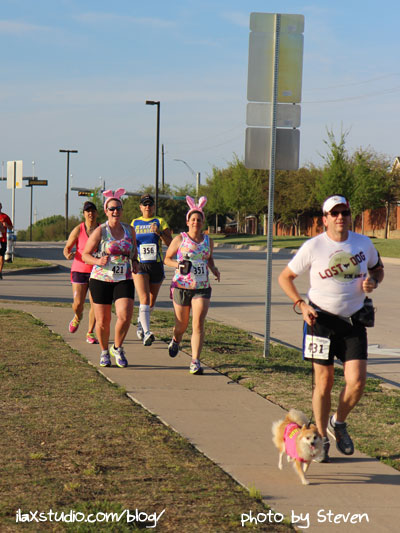 *oh, that is because I immediately signed up for a full marathon then got a stress fracture… that kind of set me back for awhile
**Looking at the race results, there were three people from out of state – me, someone from Nevada, and someone from Louisiana
By
30 Responses to "Trek the Trails Half Marathon Race Report"