Highlight of the Week: Making run dates with friends to ensure I still got a workout in on my crazy busy downtown work days! Also… working out 6 days a week and getting 5 runs in. I miss the way my old exercise schedule makes me feel.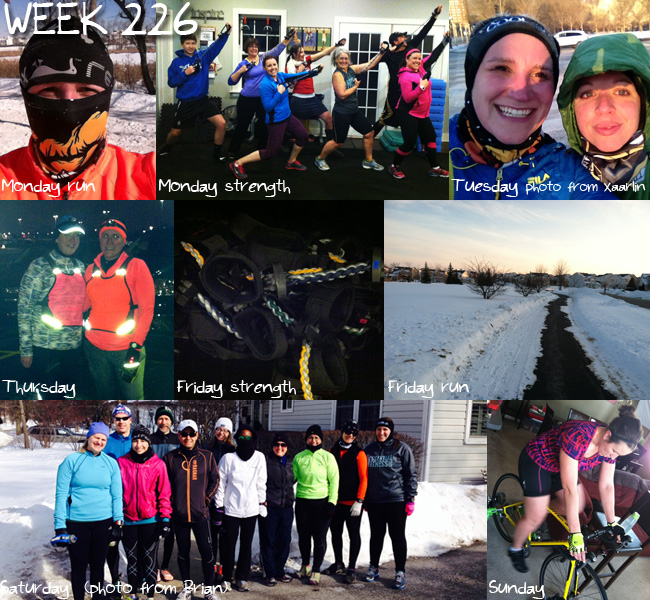 Monday | February 10, 2014: 4 m run + teaching strength class
Loc: hood, Temp: 4°/6°, Time: 39:20, Pace: 9:50 avg, Difficulty: medium, Felt: good in the beginning then meh at the end
Strength: Ankle Resistance Bands & Body Bars + Step, Difficulty: easy/medium, Felt: good
Tuesday | February 11, 2014: 4.5 m run (w/xaarlin)
Loc: Chicago Lakefront Trail, Temp: 0°/0°, No time or pace stats – Garmin died, Difficulty: easy, Felt: good
Wednesday | February 12, 2014: rest
Thursday | February 13, 2014: 4 m run (w/Anne)
Loc: Vernon Hills, Temp: 29°/30°, Time: 52:13, Pace: 13:03, Difficulty: easy, Felt: good
Friday | February 14, 2014: teaching strength class + 4 m run (incl. 4×400 @ 7:45mm)
Strength: Ankle Resistance Bands & Body Bars + Step, Difficulty: easy/medium, Felt: okay… tired.. zzzz
Loc: hood, Temp: 22°/20°, Time: 38:46, Pace: 9:42, Difficulty: hard, Felt: happy to actually challenge myself
Saturday | February 15, 2014: 3.5 m run (w/Efit)
Loc: Grayslake, Temp: 18°/21°, Time: 38:45, Pace: 11:05 avg, Difficulty: easy, Felt: too warm/tired
Sunday | February 16, 2014: 30 mins cycling intervals
Time: 30:00, Set: 5×1:00 and 5×00:30, Difficulty: medium/hard, Felt: like I should get on the bike more!

Notes:
I don't post these things when I don't do much – hence no posts the past two weeks (despite those weeks including a half marathon and a 10 miler, ha ha!). I think these recaps are boring enough, and not having much going on makes them even worse. Hopefully I won't skip too many more this year. 
As you guys know, I went to Dallas two weekends ago to run with Gina and Steve for their first half, and the course was short. Well, Gina had her redemption race yesterday! She ran a 2:02:43 and got third in her age group, and on a hilly course! Woo hoo! That time aligns with what she would have run had the first half been the right distance. I am very proud of her, and happy she was able to do another half so soon! Steve will have his redemption race at the Dallas RnR at the end of March. 
You may notice something odd on my training plan… speedwork. I helped my friend Kelly put together a training plan for the Wisconsin Half Marathon, and will be pacing her, so I figured I should do the speedwork she is doing, too! If you are interested in the Wisconsin Half or Full, you can use my code KIMSCODE for $5 off registration! This is the first half marathon I've ever done and still my favorite one. This will be my sixth year running it! 
I think I will be upping my mileage more than half marathon level, though. I just signed up for Rachel's The Longest Day team to raise money for the Alzheimer's Association. On The Longest Day (the day of the summer solstice, June 21) teams join together to do an activity from sunrise to sunset (from their site) "to honor the strength, passion and endurance of those facing Alzheimer's." Rachel's team's event is running, so I would like to participate as much as possible, along with fundraising (more on that to come)! This event is important to me as it recognizes all dementias, and my paternal grandfather had Lewy Body Dementia. 
One last thing. I thought this article (pdf here) in SELF Magazine encouraging you to be cold when exercising outside to burn more calories was odd. The "science" is saying your body uses more energy to keep you warm, which is true… but it calls it "brown fat," which I have never heard of. And how about this tip from the article – "Think of a warm kiss to keep you warm"?! Ha ha ha! I do like the tip of using a neck gaiter, but how about this tip? Dress however makes you comfortable outside, and don't worry about wearing less/covering less to burn a few more calories. So. Odd. Of course, I write all that and have another post drafted about a SELF article I actually like (just need to have my proof reader read it)… these magazines are so hit and miss for me!
By
21 Responses to "Training Week 226"