Highlight of the Week: That I started the week with a run with my dad in Iowa, and finished it with a run with my bestie in Texas!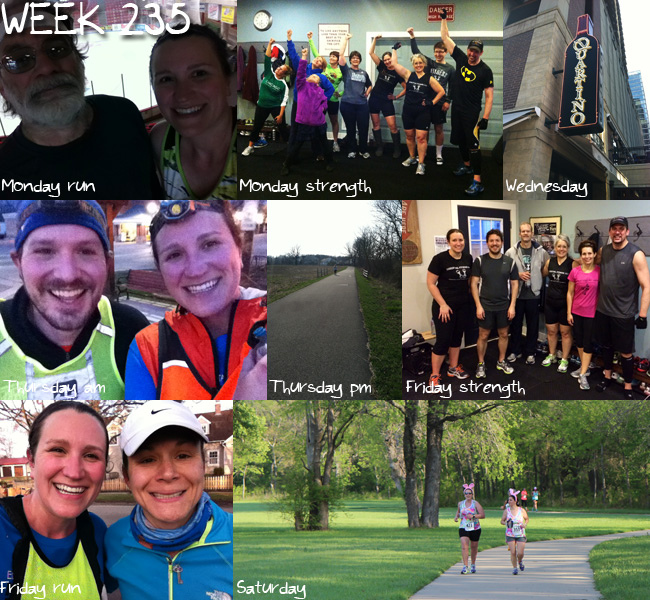 Monday | April 14, 2014: 5 m run (w/Dad) + teaching strength class
Loc: Young Arena, Waterloo, Time: 53:30, Pace: 10:41 avg, Difficulty: easy, Felt: good
Strength: Kettlebells/body bars mixed mode, Difficulty: medium, Felt: okay
Tuesday | April 15, 2014: rest
Wednesday | April 16, 2014: 3+ m walk around Chicago
Thursday | April 17, 2014: 6.3 m run (w/Adam) + 3 m run (w/Christina)
Loc: Around Grayslake, Temp: 42°/41°, Time: 59:13, Pace: 9:24 avg, Difficulty: medium, Felt: worn out and tired
Loc: Millennium Trail, Temp: 60°/61°, Time: 30:35, Pace: 10:12 avg, Difficulty: easy, Felt: good/excited to run with someone new
Friday | April 18, 2014: teaching strength class + 5.2 m run (w/Kelly)
Strength: Kettlebells/bod bars mixed mode, Difficulty: medium, Felt: decent
Loc: Grrayslake, Temp: 37°/36°, Time: 51:44, Pace: 9:57, Difficulty: good, Felt: happy I got to run with Kelly!
Saturday | April 19, 2014: Trek the Trails Half Marathon (w/Gina)
Loc: McKinney, Temp: 51°/68°, Time: 2:13:17, Pace: 10:09 avg, Difficulty: medium, Felt: happy (until the hills… just kidding!)
Sunday | April 20, 2014: rest (including some walking)

Notes:
Looking at my training logs, I have not done a solo run since March 17th! That is nutso! I sure feel lucky to have so many people to run with, at many different times (and sometimes, paces)!
I can't decide if I want to include walking in my recaps or not. Sometimes I end up walking a lot if I am downtown, but don't include it, but would if I was walking that amount around my neighborhood. If that makes any sense. This week I did track how much I walked downtown Chicago and it was over 3 miles (non typical day – my walking commute isn't always like that). I am sure it will be back and forth from week to week.
I'm coming up on potentially 6 weekends in a row of races (not signed up for all of them yet), and most of them are with friends! Fun, fun, fun! 
By
10 Responses to "Training Week 235"