Highlight of the Week: My first duathlon and first softball practice with our team – both were so fun!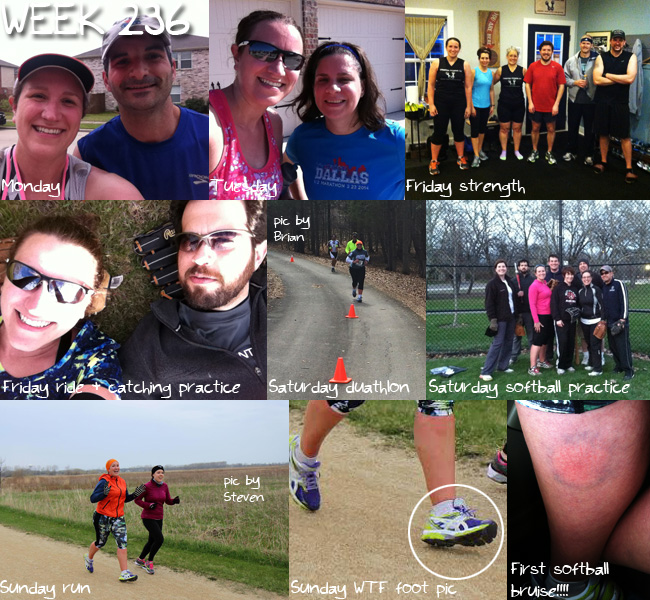 Monday | April 21, 2014: 5 m run (w/Steve)
Loc: McKinney, Temp: 61°/62°, Time: 48:41, Pace: 9:44 avg, Difficulty: easy, Felt: good
Tuesday | April 22, 2014: 4 m run (w/Gina)
Loc: McKinney, Temp: 63°/68°, Time: 38:36, Pace: 9:39 avg, Difficulty: easy, Felt: good (hot, ha ha!)
Wednesday | April 23, 2014: rest
Thursday | April 24, 2014: rest
Friday | April 25, 2014: teaching strength class + bike ride/catching practice (w/Steven)
Strength: Kettlebells/body bars mixed mode, Difficulty: easy, Felt: good to be back after a week off!
Saturday | April 25, 2014: Kettleman Duathlon + softball practice
Loc: Kettle Moraine State Forest, Temp: 36°/38°, Time: 2:15:51, Pace: 12.2 mph avg, Difficulty: medium, Felt: pretty good
Sunday | April 26, 2014: 6 m run (w/Valerie)
Loc: Rollins Savanna, Temp: 40°/43°, Time: 58:09, Pace: 9:41 avg, Difficulty: easy, Felt: soooo windy

Notes:
Did you see that Rachel put up an awesome raffle to fundraise money for Alzheimer's Association's The Longest Day event? Check it out, here! All the prizes are great – medal displays, race entries, compression socks, books, running gear, and more! All you have to donate is $5 for an entry! And if you donate $25 you get 3 bonus entries! And there are chances for even MOAR entries! I really want to enter, but feel like I shouldn't since I am on the team. Hee hee. YOU should enter, since I am not!
Do you feel like you should know the people you see running in your town? Maybe not so much for big cities, but when I see a runner around here, I often feel like I should know who it is*. If I am in Grayslake, I normally do! I was driving home this Thursday and saw two people I knew. The same thing happened the week before. 
It was so nice to run with Steve and Gina when I was visiting them this week! Because I am pretty sure yelling "Go Meb! Go Meb!" for a bit Monday morning then eating nachos for lunch doesn't count for exercise. But walking around at the zoo does, right! Hee hee, my point – I really like to workout when I travel and it's even better when I get to do it with the person(s) I am visiting!
*This would be why I asked Gina "do you know who that person is?" a few times when we drove by runners in her town this week. Ha ha. 
By
11 Responses to "Training Week 236"