Awhile ago I was telling my dad* how I'm annoyed that radio stations all play their commercials at the same time – I am changing stations because I don't want to hear a commercial. 
He said he hadn't noticed that. He said, GASP!, he doesn't change the station when a commercial comes on. 
WHUUUUUUUUUUUUUUUUUUUUUUUUUT?!
Are you an ad skipper?
You know, changing the station when a commercial comes on, fast forwarding if you have one of those fancy DVR things, recycling catalogs, ignoring the ads in your email, on Facebook, on blogs…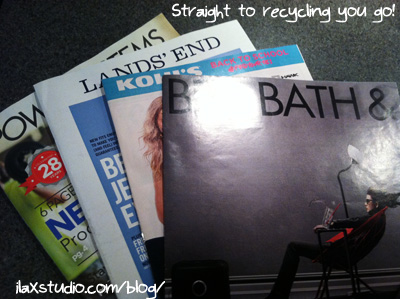 Well, you probably guessed it, but I sure am. Can't stand them on the radio. Don't watch much TV so that's not a problem. I ignore them online as much as possible. I have noticed a huge increase of people selling stuff on Facebook, and more and more sponsored posts on blogs, which I mostly just skip over. I just, sigh, want to peruse the internets without trying to be sold something. Is that too much to ask?!
Ha ha, yes, I realize it is. I realize ads are what make it so certain sites can run. So that we can listen to music, and watch tv. So people can make money. I get it. But that doesn't mean I don't try to block it out. I have enough "things**." I just cleaned out my closet and had three bags for Goodwill! This happens every year! That doesn't seem… right. 
And there are only two places I don't skip ads – in running magazines (fun to look at new products) and in local area bulletin boards (never know what you'll see there!). 
*During one of those long runs where he has to listen to me babble for hours… sorry, Dad!
**Of course, not all ads are for things (some are for experiences), but a high amount seem to be. 
By
38 Responses to "Ad Skipper"