My first race in my new age group! Woo hoo! Let's just say… I dominated. 10:21 average for a 5K (32:08 finish)? Aww yeah, baby!
Ha ha ha. Just kidding! Like last year, this race was just an awesome reason to get together with Rachel in the middle of a work week (half day? yes, please!) and run a super fun race!
And also like last year… we wore the Grumpy Cat shirts we made. But, this year? People actually got it.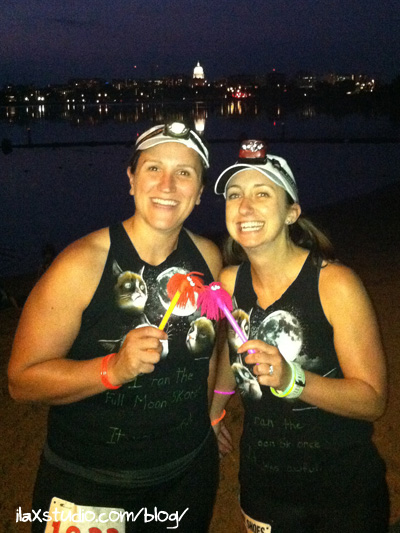 We were, um, a bit disappointed that not many people commented on our shirts last year (they have Grumpy Cat on them, with a full moon, and say "I ran the Full Moon 5K once. It was awful."). DON'T PEOPLE KNOW WHO GRUMPY CAT IS?!
Hee hee. They do this year! Many came up to us to say how awesome our shirts are. One person asked if she could take our picture. And another person said they are going to make a shirt like that for the race next year. Love it! It's fun to meet fellow Grumpy Cat fans.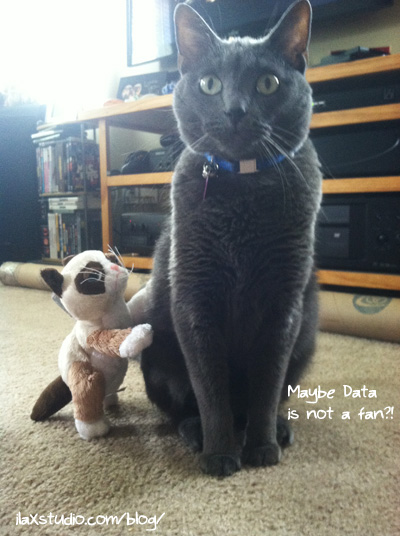 There was however, one guy who came up to us and said he liked our shirts… then asked what they mean. But we suspect that he just wanted to talk to people to brag. He made everyone in our group guess how many half marathons and marathons he's done since he had knee surgery. Um, okay (it was less than my guess of 40 each). He did imply that Rachel and I look younger than 30, and asked if we are sisters, so it wasn't all bad. 
Linda did the race again this year, too. It was nice to see her, and meet her friend, Corinne.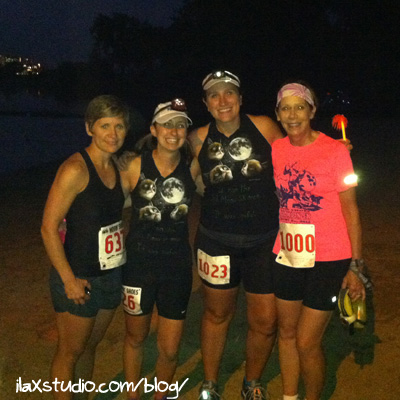 L to R: Corrine, Rachel, me and Linda
Linda thought Rachel and I would finish ahead of her in the race, but we told her considering our last race together averaged an 18:00 minute pace or something… we might not be (and she did finish in front of us!). Ha ha. Truthfully, neither Rachel or I have been running a ton lately, and definitely not doing speedwork. 9:00s feel challenging these days, and we just wanted to take the race easy! Which we did! And I loved it! We chatted the whole time. I was sad when it was all over! Luckily I know Rachel and I have a few more runs together this month. 
This race is just so fun. It starts at 9:00 pm, under the "full" moon (yes, the full moon is not until the 10th this week). Everyone wears reflective gear, headlamps and glow bracelets/other accessories.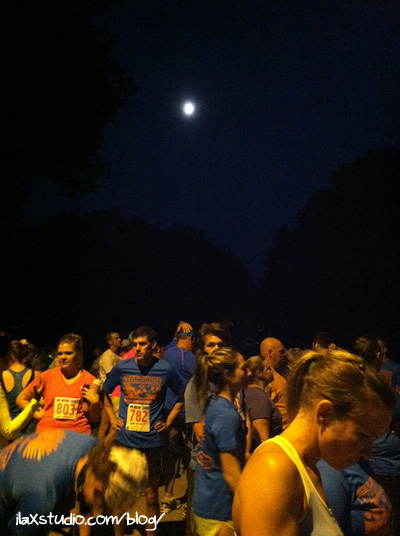 Someone from Movin' Shoes (the store that puts the race on) dresses up as a wolf and if you beat him I think you win something. He runs an 18:00 minute 5K or something silly. We didn't even see him. Ha ha!
The course runs along Monona Bay in Madison and to a park, which is fun for me, since it's not an area I am familiar with!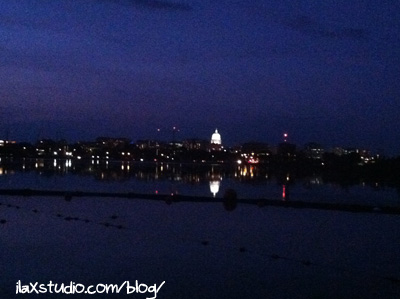 It starts out on street, then goes to trail, then in to the park. It's somewhat crowded for the first two miles – another reason to not run too fast and be careful with your footing, right?! RIGHT?!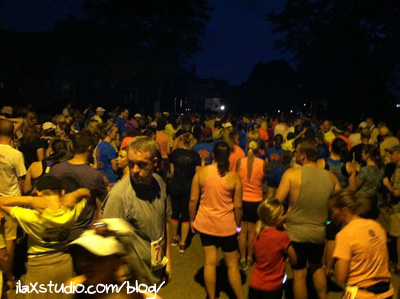 And since it's summer, it's HUMID. We were actually lucky with temps in the low 70s/high 60s, but man, we were dripping in sweat when we finished!
I was wondering if the post race snacks would include oreos, like last year. They sure did! It's just meant to be that I run this race!
And I do hope this is a race I can keep doing! The date of it varies each year, to more closely align with the full moon. Last year it was on a Thursday in July (because of that date, I was 28 when I did the race last year, and 30 when I did it this year – funny to skip a year!), and yeah, this year, on a Wednesday in August. I hope it works for my schedule next year! Especially because I want to keep getting these cool shirts – one of the only ones I saved during my purge of last year's shirts!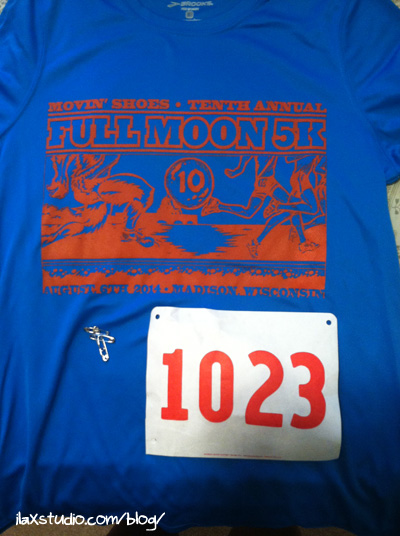 It's such a treat to take a little bit of leave in the middle of the week and travel to do something fun like this, with such a great friend. And this year, Steven came as well. I think he was missing Rachel, too! Steven and Rachel's husband, Kevin, hung out at a cool bar while we ran, then we all got dinner after the race, with Linda. Pretty late night! I totally planned a nap before the trip so I could stay up until midnight. I mean, I am 30, after all… (let's not mention that I have loved naps since college). 
By
22 Responses to "Full Moon 5K Race Report (2014)"