Yesterday I had a chance to do something small to celebrate recent marathon (and half marathon!) success and my general love of running/being active! It's something I have been considering for a year…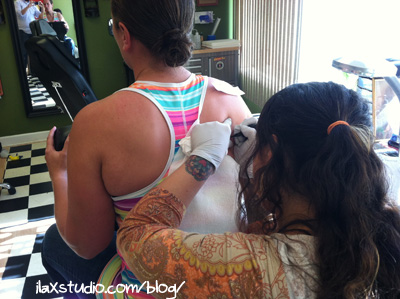 I got my first tattoo!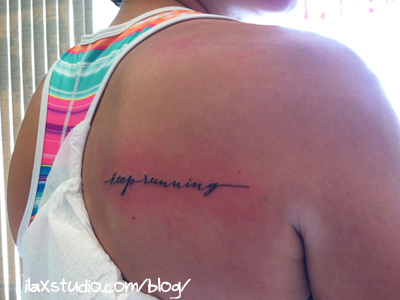 I saw this the text "keep running" on a tattoo online over a year ago, and haven't stopped thinking about it since. I took that as a sign that I was committed to it and it was time to get inked!
A few friends gave me recommendations for local tattoo parlors and I chose to go to Good Family Tattoo in Antioch (Illinois). I am super pleased with the experience and LOVE how the tattoo turned out!
I asked my artist, Elisa, if she had any tips for a first-timer and she said "just remember to breathe." Basic, but it was a good tip! And it made me laugh, since I say that a lot in the strength classes I teach.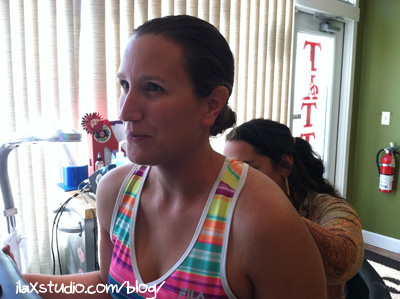 Of course, the tattoo is tiny, so it only took 10-15 minutes*! It didn't hurt much at all – just felt like a bit of pinching. I was surprised by how quickly it was over (twss)!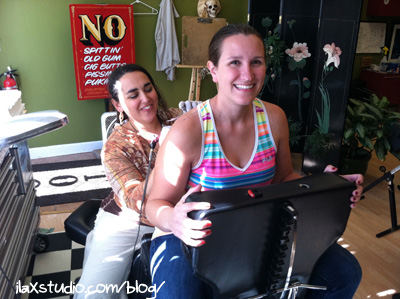 I can see how people get addicted to getting these. They're fun and easy. I already have another style in mind that I like…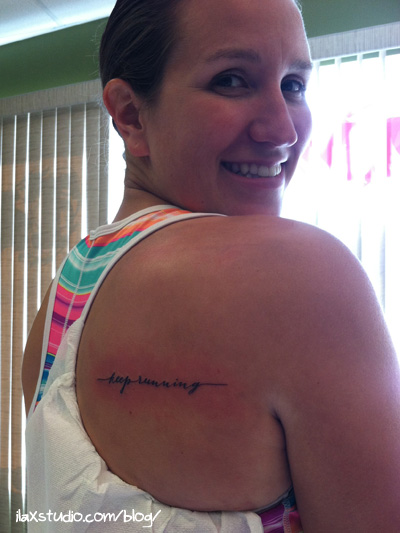 I will probably think that one over for a year or two, as well though! Ha ha. 
*When I called to ask about getting this, they recommended just coming in as a walk-in (right when they open at noon) since my tattoo was so small and simple, and I had a font in mind (BONUS POINTS to anyone who remembers where that font is from!). So the whole experience was around fifty minutes long – getting there, signing paperwork, showing the design, then having Elisa recreate it using the font online and getting the stencil ready, putting it on, going over care instructions, paying, etc. Elisa actually told me that most people get tattoos on top of their shoulder blade or on top of their shoulder, so we looked at those spots too, but Steven and I both really liked it in this area. I'm happy Steven came with me and helped me pick out just the right spot!
By
78 Responses to "Keep Running"