Tomorrow is the last day of summer! Hurrah!
It seems like everyone has a different date that feels like the last day of summer for them – when school starts up, the last day of August, Labor Day, etc (is it the actual start of autumn for anyone?!). For me, it's whenever my last trip to the Mississippi River in Guttenberg, Iowa is. I go there for fun in the sun (and on the sand and in the water) and when I feel like that is no longer an option because the weather will be too cool, I am ready for summer to be over*.
This year, it was Labor Day weekend, again. And it felt odd that Labor Day was so late in the month this year (September 7), but we had really great hot beach weather!
And… we had the same "summer enders" as last year! Yay!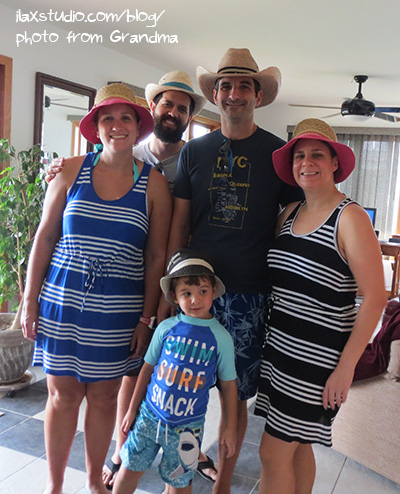 I can't put in to words how happy the relationship we and our families have with Gina, Steve, and Luca makes me feel. We clicked immediately with Gina and Steve when we first met them (in person**) in August of 2010. We enjoyed our time together so much that we started seeing each other a few times a year – traveling to their place in New York City, or them coming to ours in Chicagoland. We met a lot of their family in NYC. They met my sister and her husband, and Steven's brother, on trips we took to NYC. They met my mom by chance in the Dallas airport. They met a lot of my family at Christina's wedding. And more when they came to the river last year. We hung out with their family for the Dallas Marathon. We've met a lot of each other's friends. And the KC trip was so much fun last year, we did it again this year, with our families. And that brings us up to this year's river trip!
And now… you have a condensed history of our time together, ha ha.
I feel so much joy seeing them fit in seamlessly, with my family, and us, with theirs. I love that we all WANT to spend time with each other, and make sure it happens. And I am blown away that Gina and Steve and Luca drive all the way from Texas to Iowa (900 miles one way!) to hang out with all of us at the river!
Hee, hee, so, the KC trip itinerary was so successful in June, that we made another one for this trip, including activities and meals. We had several beach visits, another golf cart parade, a funicular visit, a half marathon, and lots of goofing around.
Muah ha ha. I'm cautious of manmade water slides since I hurt myself on one in July 2009. I forgot how much they scratch up your butt.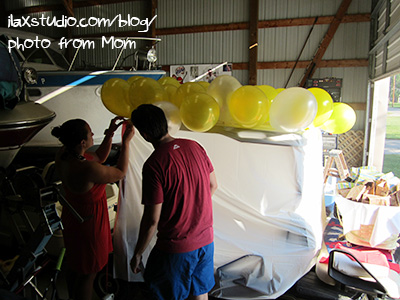 Swap out Grandma for Dad, ha ha
During this visit we started brainstorming how to decorate the golf cart for the Labor Day weekend parade next year and Gina had a great idea… but then told us they won't be there! Because Luca will be in school! NOOOOOOOOOOO!!!! Ha ha.
So, next year, we'll have to do this visit in August, before Luca starts school***. And I am sure it will be just as fun! They just won't be our "summer enders" anymore.
Maybe they can be our "fall beginners"?! They are, this year! We'll see them again very soon! YAY!
*Ha, and I am ready for it to be over most of August, when I can't take running in the humidity anymore.
**We'd been friends online since winter of 2006 before we met.
***Ha, Luca HAS to come. When we were leaving and talking about our Labor Day visit next year, my Dad said "Don't bother coming without Luca." Ha ha ha. He'll have to settle for a Luca visit in August. Luca and my dad really like each other. It's so cute.
By
9 Responses to "Summer Enders, Fall Beginners!"