Highlight of the Week: Trying two classes with my bestie!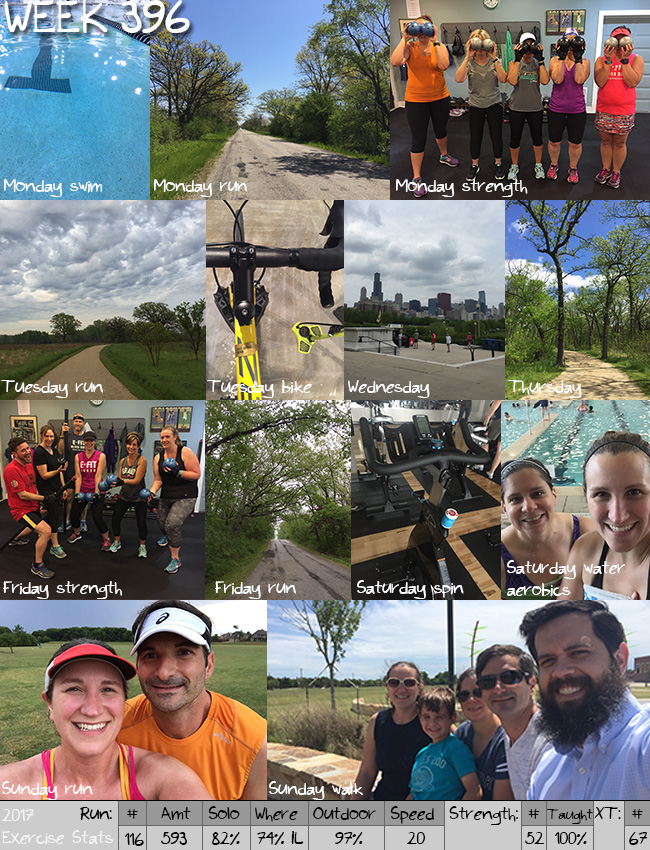 Monday | May 15, 2017: 1,386 yd swim + 4.5 m run + teaching strength class
Loc: FitNation, Time: 30:19, Pace: 2:11/100 yd avg, Difficulty: easy, Felt: good, but wondered if my form is bad for my neck
Loc: hood, Temp: 61°/59°, Time: 46:19, Pace: 10:18 avg, Difficulty: x, Felt: hot & sweaty (because of sun & sunscreen)
Strength: body bars and soft balls, Difficulty: easy, Felt: so sweaty! Still from the suncreen?!
Tuesday | May 16, 2017: 10 m run + 12 m ride
Loc: VP Woods Loop, Temp: 61°/64°, Time: 1:50:43, Pace: 11:04 avg, Difficulty: easy, Felt: good, just sweaty!
Indoor Bike Time: 40:05, Pace: 18.0 mph avg, Difficulty: easy, Felt: good, just need to keep my form in check!
Wednesday | May 17, 2017: 2.7 m run (w/Mike)
Loc: Chicago Lakefront Trail, Temp: 78°/82°, Time: 29:21, Pace: 10:53 avg, Difficulty: easy, Felt: good
Thursday | May 18, 2017: 3.1 m run + 1 m walk (w/Steven)
Loc: VP Woods, Temp: 70°/71°, Time: 30:53, Pace: 9:58 avg, Difficulty: easy, Felt: fine, just hot!
Friday | May 19, 2017: teaching strength class + 2 m run
Strength: body bars and soft balls, Difficulty: easy (half observing), Felt: good
Loc: hood, Temp: 42°/42°, Time: 18:50, Pace: 9:24, Difficulty: easy, Felt: good, needed to run off stress
Saturday | May 20, 2017: spin class (w/Gina) + water aerobics class (w/Gina) + 40 min walk (w/Gina)
Loc: Apex, Time: 47:49, Pace: 17.6 mph avg, Difficulty: medium, Felt: good, sweaty
Sunday | May 21, 2017: 3 m run (w/Steve, incl. 5×1:00) + 35 min walk (w/la otra familia)
Loc: McKinney, Temp: 61°/62°, Time: 27:53, Pace: 9:16 avg, Difficulty: medium, Felt: decent, a bit out of breath!

Notes:
Last September, I had soreness on the lateral side of my right knee that I attributed to spending the month of August working on our attic, and gaining weight. I rarely felt it while running, only while trying to bend that knee in funny positions. It's been gone for a few months, but Monday night, I bumped that side of my knee hard in to my car and it hurt so bad – it seems like something is still quite tender there!
I ran with a coworker on Wednesday! We had a fun time AND I found a twenty dollar bill during our run. He must be good luck!
Our abnormally high temperatures this week were accompanied with crazy winds, which did a decent job of keeping me cool with it so warm! But also held me back from doing speedwork on my normal day.
I was in Texas this weekend and tried two classes with Gina – a Spivi cycling class, and a water aerobics class. The cycling class was similar intensity to the one I teach, just more fancy – there were screens showing "where" we were riding, and you could see your avatar on the screen, and stats from time to time. I enjoyed it! I was surprised by the water aerobics class. I thought it would be easy but some of the resistance stuff was challenging for me! The teacher could tell I was new and gave me a lot of help (in a nice way). She wanted to make sure I was coming back so she could help me improve, and when I told her I live in Illinois she teased me "well, I guess you can use this if when you take class in Illinois." That would be a great class to take to help stretch a few times a week!
On Sunday I finally did my speedwork, and Steve joined me! It's always a treat to run with him and/or Gina! Next time we'll all get to run together will be in late July!
By
6 Responses to "Training Week 396"