Highlight of the Week: Swimming outside with Anne / Running with Rachel / a fun Fitness Boxing class!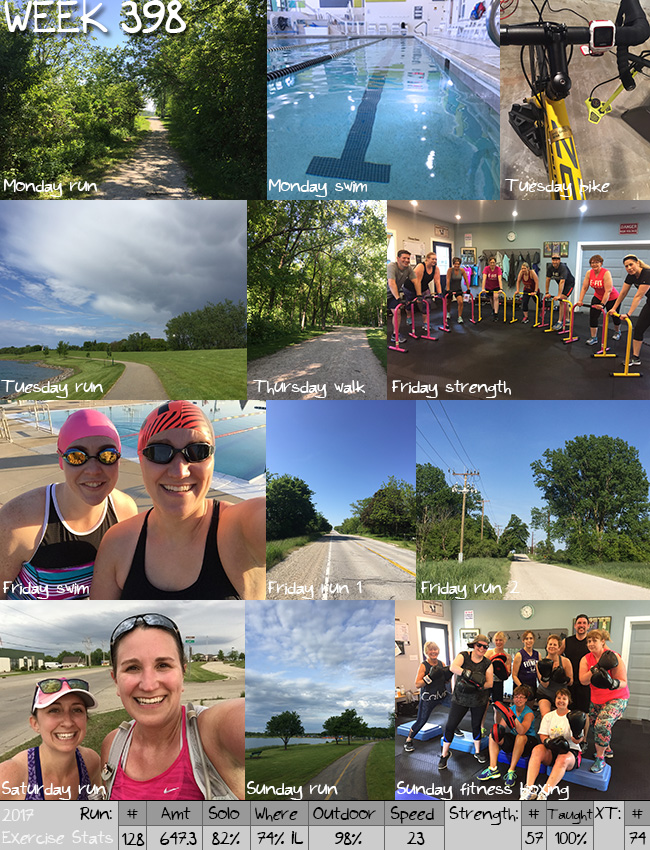 Monday | May 29, 2017: 5 m run + 798 yd swim
Loc: Gurnee, Temp: 70°/72°, Time: 54:07, Pace: 10:49 avg, Difficulty: easy, Felt: fine, just hot
Loc: FitNation, Time: 16:32, Pace: 2:04 min/100 avg, Difficulty: easy, Felt: good to swim after a hot run!
Tuesday | May 30, 2017: 12 m ride + 4.5 m run
Indoor Ride Time: 41:10, Pace: 17.5 mph avg, Difficulty: easy, Felt: good
Loc: Lake Andrea, Temp: 64°/64°, Time: 44:10, Pace: 9:48 avg, Difficulty: easy, Felt: good
Wednesday | May 31, 2017: rest!!!!
Thursday | June 1, 2017: 2.5 m walk (w/Steven)
Friday | June 2, 2017: teaching strength class + 1,110 m swim (w/Anne) + 4 m run (incl. 4 hill repeats) + 3 m run
Strength: mixed mode circuit & Leberts, Difficulty: easy, Felt: good
Loc: Grayslake Pool, Outdoor Temp: 56°, Time: 22:20, Pace: 1:55min/100m, Difficulty: easy, Felt: good
Loc: hood, Temp: 67°/72°, Time: 41:16, Pace: 10:34, Difficulty: easy, Felt: good, just hot and sweaty!
Loc: hood, Temp: 76°/74°, Time: 31:43, Pace: 10:34 avg, Difficulty: easy, Felt: good, just warm
Saturday | June 3, 2017: 10 m run (w/Rachel)
Loc: Seven Waters Trail, Temp: 63°/71°, Time: 1:44:29, Pace: 10:27 avg, Difficulty: easy/medium, Felt: decent, happy it was overcast!!!
Sunday | June 4, 2017: 3.5 m run (incl. 4×400) + teaching fitness boxing
Loc: Lake Andrea, Temp: 69°/69°, Time: 35:41, Pace: 10:11 avg, Difficulty: easy, Felt: decent, happy there was shade during my repeats!
Strength: step and boxing, Difficulty: easy, Felt: good (but so hot in the studio!!!)

Notes:
On Monday I did a warm run then immediately did a swim. What a refreshing combo! I hope I can time it that way again.
It was nice to have a Monday night off from teaching, for the holiday!
Tuesday's run was so bizarre! It was pouring rain and cold when I started, then the sun came out and it was buggy and I was too hot, then there was a refreshing light rain at the end. All in the span of 45 mins. Ha ha.
I had intended to run Thursday but felt completely exhausted and took a nap after work instead. I wanted to do something when I got up and was happy Steven said yes when I asked if he wanted to go on a walk!
I did my first outdoor lap swim of the year Friday! It was a treat to feel the fresh air on my skin while swimming. A few notes:

I forgot a towel! I grabbed my normal pool bag, forgetting the fact that the gym I swim indoors at has towels. Luckily I had one in the trunk of the car. I think I will leave one there for the season!
I was curious to see how my first outdoor lap swim pace of this year compared to my last one of last year… 1:55 min/100 m vs 2:35 min/100 m. I've definitely improved since last year (and have become more comfortable with freestyle – I was still swimming mostly breaststroke last year at the outdoor pool).
I didn't wear my headphones since I was swimming with Anne, and man, I got so much water in my ears. Eek!

It was lovely to run with Rachel and catch up on Saturday! We had a muggy weekend here, and I felt lucky it was completely overcast for our run.
It was so wonderful to do speedwork on Sunday knowing I don't have any running races coming up, and can just do as much or as little as I feel like!
I always rely on music to get my students pumped up during Fitness Boxing class (gotta have the right tempo for punching!). This week, I also let the music dictate what we were doing, a bit. In the hour class, I had four songs with the words "Jump" in them, and whenever one of those songs came on, everyone had to stop boxing and get on a step and do a plyo workout for the whole song (I called out moves and we did them for about 20 seconds then moved on to another). The students didn't know when the songs were gonna play, so the timing was a surprise! Hopefully they thought that was fun. I did (even though I knew, ha).
My mom is coming to Fitness Boxing next week! And my dad and I have plans to ride, and I hope he can ride with me for a run or two. I am looking forward to seeing them!
Monthly recap time! In May I ran 121.3 miles (26 runs), cycled 142.45 miles (8 indoor rides, 1 outdoor ride) and swam 6,069 yards (6 swims). My coldest run was 42°F and my warmest was 82°F. I taught 8 strength classes, and 2 fitness boxing classes. I tried two new classes in May – a Spivi cycling class, and a water aerobics class.
By
11 Responses to "Training Week 398"