This will be my last recap post from River Trip 2017, I promise! (Ha, last year I recapped nothing, this year, EVERYTHING! But it's been fun to have things to blog about.)
For me, going to Guttenberg has always been about going to the beach (and seeing family, of course), and we had PERFECT weather this year: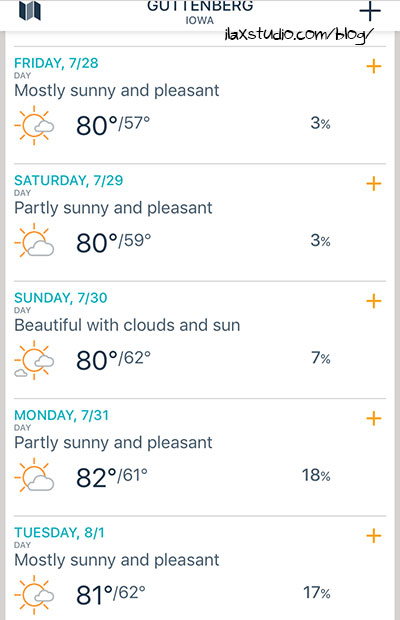 The same storms that damaged Pikes Peak and the closest town in mid July also went through Guttenberg. The island my family has cabins on had a water boil order and was without electricity for a bit. And sadly, my parent's cabin seemed to get the brunt of the damage on the island – they had several trees down (on the cabin, of course… but luckily not the boat), and spent a lot of time getting that fixed in July. Anyway – all that's to say I was grateful we didn't have any storms and had day after day of perfect beach weather! (And am grateful no one was hurt during the July storms.)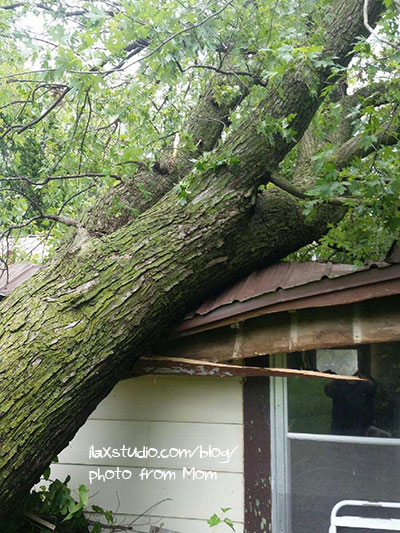 That tree's not supposed to be there
On Friday, we arrived in the late evening and focused on unpacking, and getting ready for RAGBRAI by fueling (and drinking)! No beach time on Friday!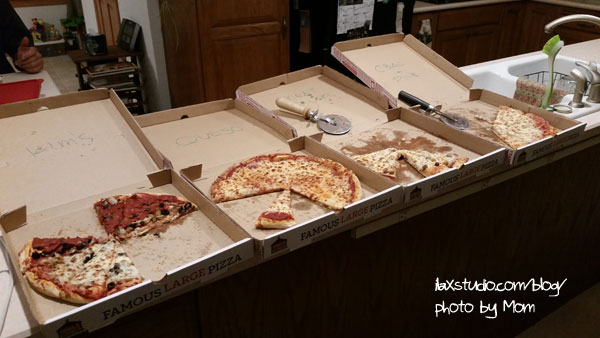 On Saturday, we rode RABGRAI, and played around on the jet skis when we got back!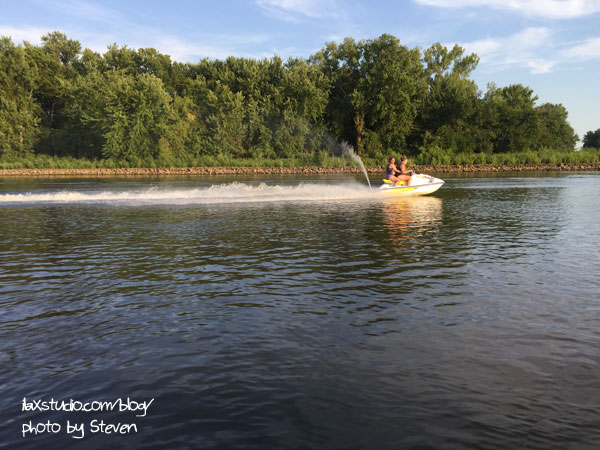 Photo actually from Tuesday, but you get the idea!
Then helped put the dock in so that we could go to the beach the next day.
The boys (Steven, his brother Andrew, and Steve) helped my parents lift the dock on to the trailer so that my parents could take it to the island ramp to put in the water. Then, Gina, Luca, and I helped my dad bring it down the river to my Grandma's cabin by attaching it to a fishing boat and floating it down. ANd then we helped set it up and secure it in place. By the time we were doing that, the boys were smoking cigars on Grandma's balcony, and had acquired paper and markers and were giving us ratings on our performance and style points as we set it up. Oh, boys. Ha ha ha.
We left at 9:30 am on Sunday to get a spot at the beach, and didn't get back until around 4:00 pm!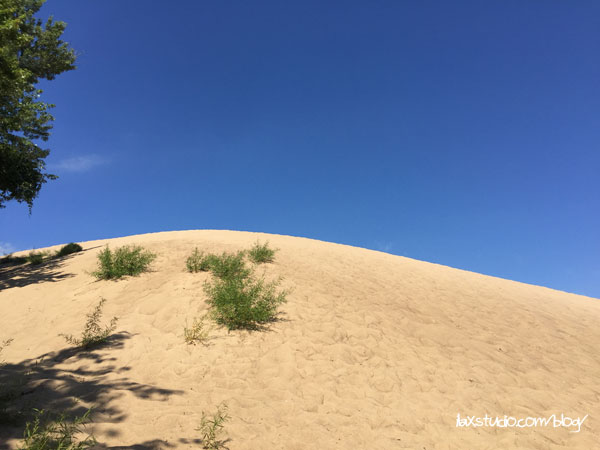 We call the beach closest to Grandma's house "Big Hill Beach" because that is where all of the nearby sand dredged from the river goes. The hill is a different size each year. People often set up man made water slides (tarp and water pump) on the hill, and we saw someone taking one down when we arrived. (Here's an example, and the story of how I hurt myself on one.)
Every beach visit was to Big Hill Beach this year. The bigger boat that can carry more people and stuff to beaches farther away was out of commission (which my dad planned to fix but no longer had time to because of the house damage), so we were using smaller boats to go back and forth. Works for us – this beach is great – it has soft (HOT!) sand and no mud. The only issue is sun coverage from lack of trees. We used a tent for shade the day we were there the whole day, and went in the afternoons on the other days – since the beach faces east, the sun wasn't as intense then.
Awesome new pretzel floatie from my snis! She and I loooooooove soft pretzels!
Although, my brain was still pretty fried from being in the sun all day, Sunday. We got back to my Grandma's and some other family members had come up to join us for dinner and I was a bit out of it from all the sun. Oops! No sunburn though!
On Monday, we went out to the beach late after we got back from ziplining and lunch, and had a very special treat – my Grandma joined us at the beach! She rarely goes to the beach anymore – always cooking and cleaning. Oh, Grandma.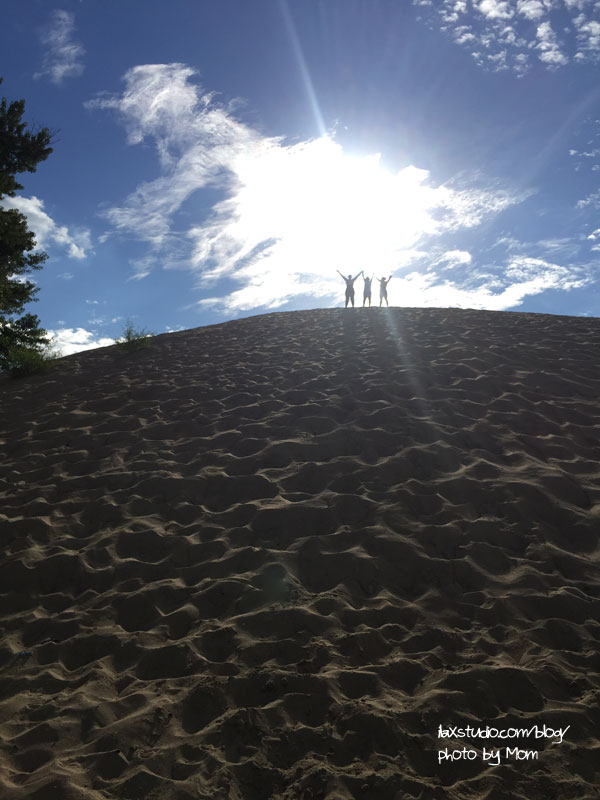 That was the one time we hiked to the top of the hill. What a workout! Of course, Luca makes it look easy!
On Sunday Steve mentioned wanting to try tubing behind a boat someday. I don't think he knew we had a tube! So we took him out for a ride on Monday. After he got the hang of it, I told my dad to give him hell and try to flip him off. Ha ha ha. It took a while, but we were successful! I decided to ride too (I haven't in YEARS!) and they got me, too!
Monday also included cake (for my birthday) and an entire dessert bar. NOM!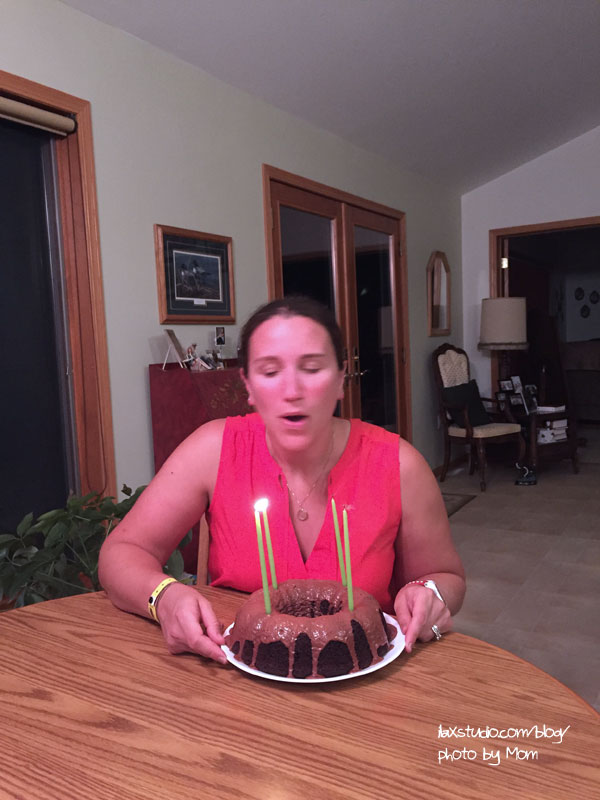 Tuesday was another afternoon beach day, followed by late night s'mores: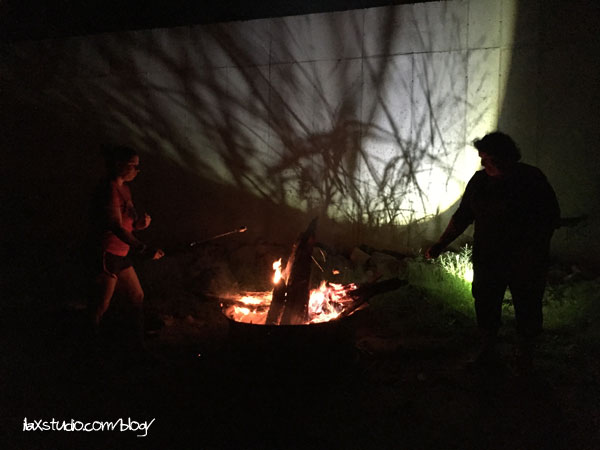 And we also went back Wednesday afternoon, after lunch in Balltown. The Wednesday night excitement was seeing a riverboat go by.
Then Thursday came and it was time to pack up and go. Sad face. Luckily, it was raining Thursday morning, so I didn't feel as sad that we weren't going to the beach.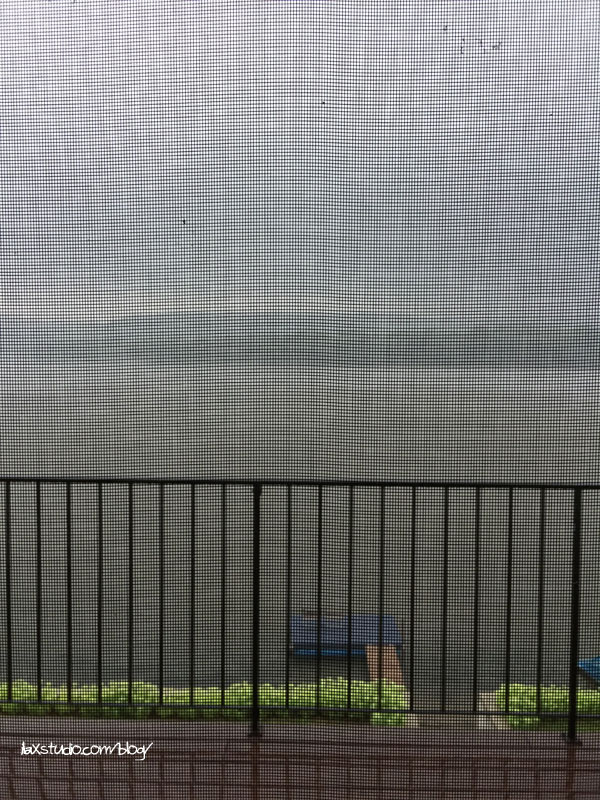 Rainy day view of the river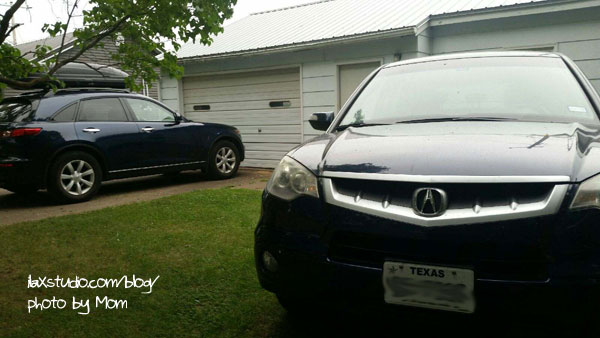 Our cars at the "Blue Cabin" – where we stay with Gina, Steve, and Luca
We made our traditional "last day" pancakes (we try to make these every time we're with Gina, Steve, and Luca, on the last day of the trip).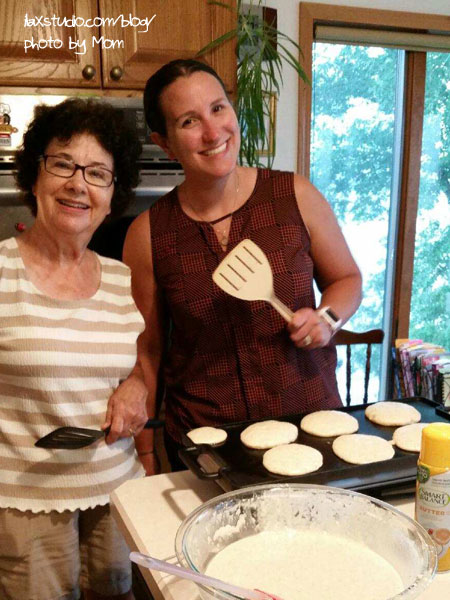 Then the sun came out which was great for photos but made me really sad we were leaving. The week flew by!
Ha, I photoshopped the calamine lotion out of one photo (because I was printing it for Grandma), but not the other!
We had such a fun week! It was the perfect combination of doing activities, and lazy beach time. I was very happy we got out to the beach four days in a row. I don't think I relax anywhere else, like I do on the beach there – whether I am playing, chatting, or resting my eyes.
I came back to our home in a great mood – from having a great trip and from being off work for a week. I didn't realize how badly I needed a long break from work until I took it. It felt fantastic not to think about work (either of my jobs) for almost an entire week!
So, like I've said in every other post about this trip, we are looking forward to doing it again next year. In the meantime, I need to plan our next trip to see la otra familia, because we miss them!
By
7 Responses to "River Trip 2017"