As I am writing all of these River Trip 2017 posts I've been looking for posts to reference from our 2016 river trip and they aren't there! You know why? Because as soon as we got home from our river trip last year, we started working on demolishing our second floor ceiling* (and replacing/repairing electrical, HVAC, structural, etc., etc.). And that is all we did for most of August. I never prioritized the time to recap last year's trip (sad face)!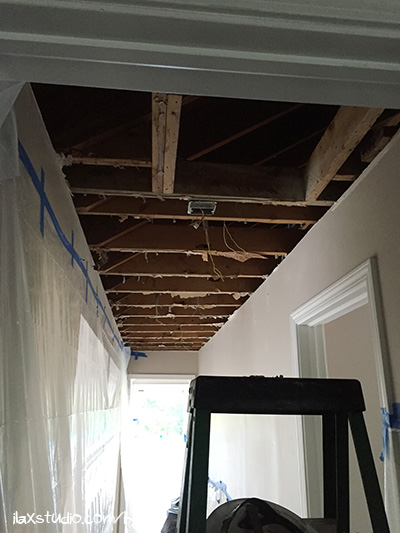 So happy our ceiling doesn't look like this anymore
Don't worry, this isn't me announcing I am going to recap it now (ha, although, I still do have more to write about this year's trip). This is just me remembering how intense last August was – working on the house during the majority of our free time – and me being grateful we haven't had a huge project like that since then.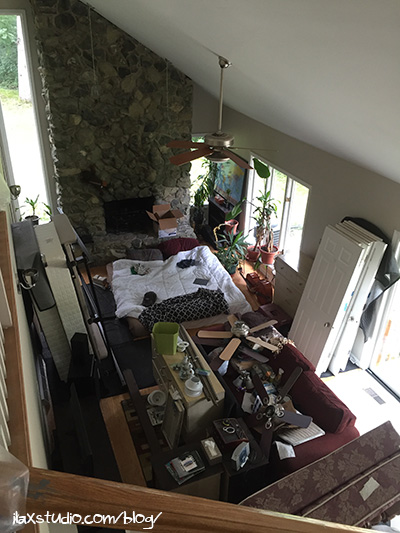 So happy our living room doesn't look like this anymore – we had to sleep down there (for a month) while we did the second floor project
That project desperately needed to be done and I am glad we did it (and so proud of Steven for organizing/coordinating/doing it all, and proud of myself for my contributions and what I learned), but man, we did NOT get an August last year. Which is why August feels so awesome this year! We have plans for the weekends, free time on the weeknights, and most importantly, a (clean) ceiling over our heads on the second floor! Woot!
*Our current house was a foreclosure that sat empty for several years, becoming a welcoming home for animals. A family of flying squirrels lived in the attic before we moved in, and for a month or so after we moved in. The squirrels damaged/soiled much of the attic and ceiling. When it got hot in the summer (as it does, ha) the second floor smelled like a barnyard because of the all the damage/soiled spots. This project HAD to happen. But gosh, were those squirrels ever cute!!!!!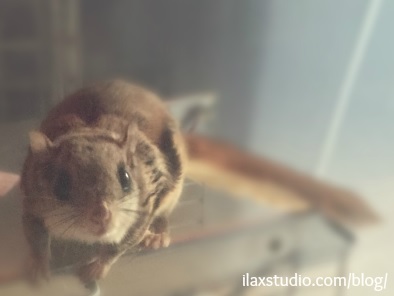 By
7 Responses to "Why August is awesome this year"