Highlight of the Week: Actually doing a long run!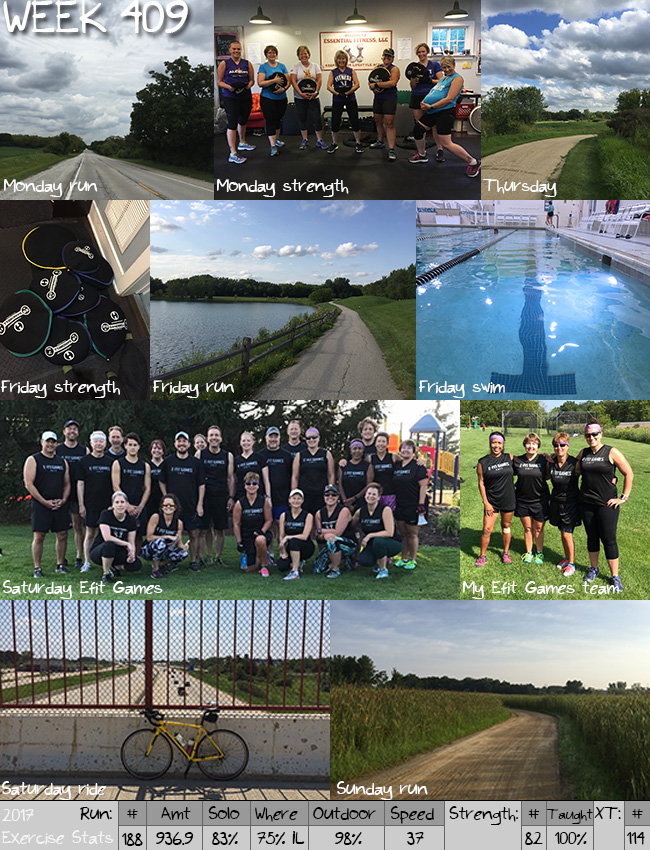 Monday | August 14, 2017: 3 m run (incl. 3 hill repeats) + teaching strength class
Loc: hood, Temp: 75°/74°, Time: 32:43, Pace: 10:54 avg, Difficulty: easy, Felt: fine, annoyed with all the bugs
Strength: sandbags, Difficulty: easy, Felt: good, but too hot
Tuesday | August 15, 2017: rest
Wednesday | August 16, 2017: rest
Thursday | August 17, 2017: 3 m run
Loc: VP Woods, Temp: 78°/79°, Time: 32:05, Pace: 10:41 avg, Difficulty: easy, Felt: fine, legs just taking forever to warm up
Friday | August 18, 2017: teaching strength class + 4 m run (incl. 3×800) + 1,218 yd swim
Strength: sandbags, Difficulty: easy, Felt: fine
Loc: Lake Andrea, Temp: 77°/76°, Time: 41:34, Pace: 10:24, Difficulty: easy, Felt: good
Loc: FitNation, Time: 25:45, Pace: 2:07 min/100 yd avg, Difficulty: easy, Felt: good, goggles just too tight
Saturday | August 19, 2017: Efit Games + 17 m ride
Loc: around town, Temp: 75°/76°, Time: 1:03:08, Pace: 16.2 mph avg, Difficulty: easy, Felt: good
Sunday | August 20, 2017: 12 m run
Loc: Kilbourne/DPRT Loop, Temp: 61°/69°, Time: 2:25:50, Pace: 12:09 avg, Difficulty: easy, Felt: great, super annoyed with the bugs and confused by my pace

Notes:
My legs still felt achy at the beginning of the week, so I gave them an extra rest day. And my quads still feel tired at the start of my Thursday and Friday runs. I wonder if I am running too slowly (and doing some strange gait)? I actually felt better during my intervals than my recoveries during speedwork this week.
Have you noticed I haven't mentioned teaching fitness boxing in a long time? Last year we took August off from weekend classes, and it seems we are this year, too. Instead of classes this month, we had the "Efit Games" on Saturday. There were five teams of four people each, and we did various strength, speed, bodyweight, core, and precision challenges. There were prizes for the top three teams, a free shirt for everyone, and free breakfast after (and the event itself was free). People seemed to like it!
My Saturday was busy with the Efit Games and errands and a bike ride and a party. I was hoping to run too, but by the time I got home from the party Saturday night, I knew it would be dumb to do that and go for a long run in the morning.
I'm happy I didn't run Saturday, because my legs felt good on Sunday. Although I kept trying to pick up the speed and NOTHING was happening. It felt strange. It was humid out, but I wasn't miserable (for that reason – the bugs biting me through the hair on my head was making me nuts). I guess not doing long runs very often means when you do, you aren't that fast, ha! I am happy I did one though – I am running a half with xaarlin in four weeks!
By
6 Responses to "Training Week 409"