It's funny what kids remember. During one of our vacations with Gina and family this year, we were discussing the next day's runs. I said "I have to run most days, or I'll be grumpy!"
Luca picked right up on that. The next day, "Did you run yet, Aunt Kim? Are you grumpy?" And on other visits since then "Go for a run, so you're not grumpy!" And (me) "Why does Aunt Kim run?" (Luca) "So she's not GRUMPY!" Ha ha.
He knows it's a funny thing to say, and that it'll make me laugh, but I am sure he knows there is truth to it. He sees his parents work out each day and tell him how good it makes them feel – it's not a new concept when Aunt Kim does it!
I was thinking about this conversation with Luca during my run late tonight. I had brought my running gear with me to work, to run during lunch break, but a coworker invited me out to lunch, so I did that instead. I enjoyed our lunch, but that itch was still there, and that chance of becoming GRUMPY if I didn't run. So I did a quick run when I got home. I am not training for anything and don't need to run, but I knew I would feel so much better, physically and emotionally, if I did.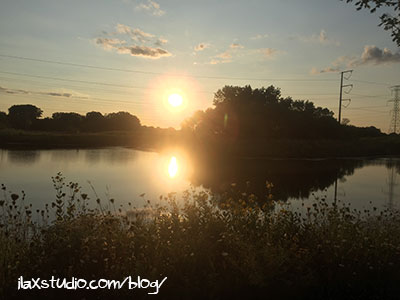 View from my run tonight
And I was right. So yeah, I run so I don't get grumpy!
(But let's not even get in to the weird paradox of dreading a run until you start it (and being kind of grumpy), even though you know it's going to put you in a good mood!)
By
8 Responses to "If I don't do it, I'll be grumpy"