Highlight of the Week: Running in a new-to-me location on Tuesday.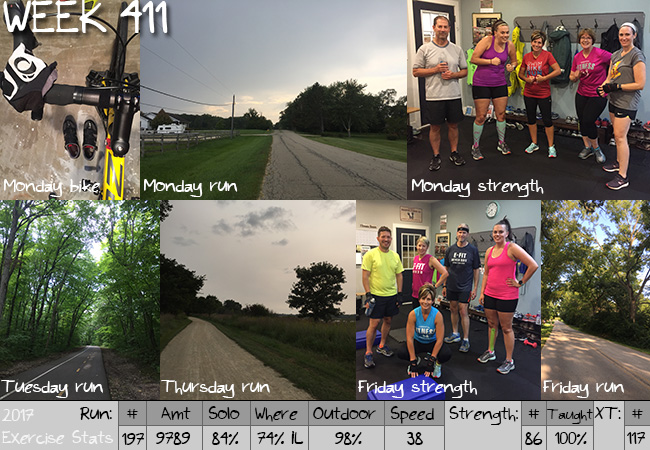 Monday | August 28, 2017: brick (5 m bike + 2 m run) + teaching strength class
Indoor Ride Time: 19:33, Pace: 15.4 mph avg, Difficulty: easy, Felt: good
Loc: hood, Temp: 72°/70°, Time: 20:28, Pace: 10:14 avg, Difficulty: easy, Felt: good, enjoyed the rain
Strength: step and dumbbells, Difficulty: easy, Felt: meh
Tuesday | August 29, 2017: 3 m run
Loc: Pet, Temp: 71°/71°, Time: 33:18, Pace: 11:05 avg, Difficulty: medium, Felt: good, challenged on the hill!
Wednesday | August 30, 2017: rest
Thursday | August 31, 2017: 7 m run
Loc: VP Woods loop, Temp: 67°/65°, Time: 1:18:12, Pace: 11:10 avg, Difficulty: easy, Felt: great, sick of running on the rocky shoulders
Friday | September 1, 2017: teaching strength class + 3 m run
Strength: step and dumbbells, Difficulty: easy, Felt: fine, happy to be done with that workout
Loc: hood, Temp: 64°/64°, Time: 33:17, Pace: 11:05, Difficulty: ???, Felt: don't remember by the time I wrote this!
Saturday | September 2, 2017: rest (sick)
Sunday | September 3, 2017: rest (sick)

Notes:
I wasn't planning to do a brick workout on Monday, but when I got off work it was supposed to start thunderstorming, so I decided to ride inside instead of run outside. But while I was riding my bike I could see that it wasn't raining at all, so I said eff it and went for a run. But only had time for two miles at that point! Ha.
On Tuesday I was running errands and decided to run at a park Steven and I picnicked at in June. It has a paved loop just under 2.5 miles with one really steep hill! I need to go back for repeats!
No swim this week because the pool was closed for cleaning.
I've been feeling really irritated about running in the shoulders on loose rocks again. Ugh. I just want to run on something flat and smooth. Even crushed rock would be fine! Wah wah wah.
I was pumped to have the long weekend to workout but got a sore throat/cold starting Friday night that ruined all those plans. Wah. Maybe I can workout tomorrow!
How is it already time for the monthly recap?! In August I ran 114.5 miles (22 runs), cycled 43.6 miles (2 outdoor rides, 2 indoor rides) and swam 5,166 yards (5 swims). My coldest run was 51°F and my warmest was 83°F. I taught 8 strength classes, and participated in the Efit Games. No Fitness Boxing classes taught in August, but I am teaching one in September.
By
4 Responses to "Training Week 411"