Highlight of the Week: Saying "Happy Thanksgiving" to people on the trail on Thursday's run/running on a brand new portion of the Millennium Trail on Saturday.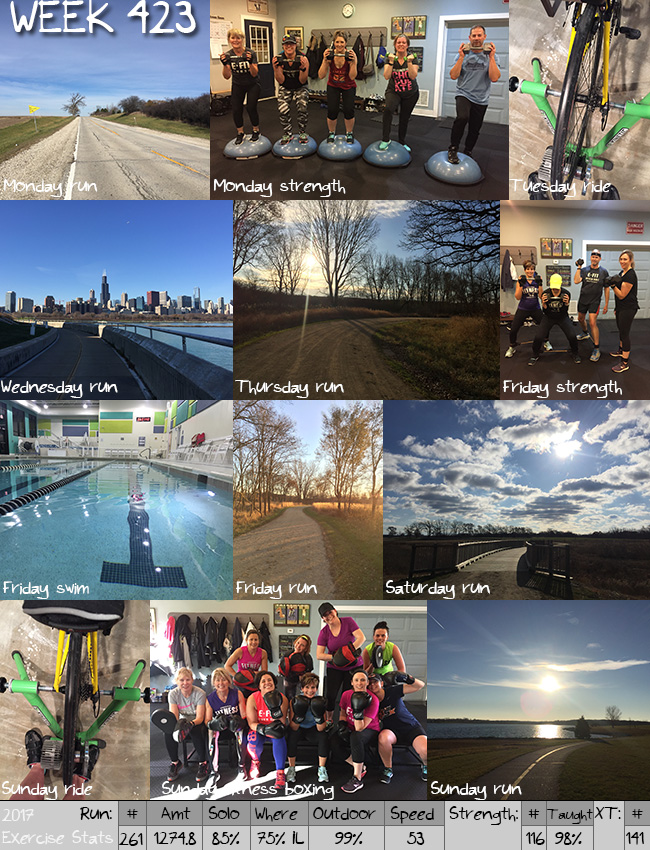 Monday | November 20, 2017: 3.3 m run (incl. 4 hill repeats) + teaching strength class
Loc: hood, Temp: 46°/49°, Time: 35:27, Pace: 10:45 avg, Difficulty: easy, Felt: annoyed with cars, still mad about something from Sunday
Strength: BOSUs and dumbbells, Difficulty: easy, Felt: good
Tuesday | November 21, 2017: 15 m ride
Indoor Ride Time: 52:01, Pace: 17.3 mph avg, Difficulty: easy/medium, Felt: good, just sore butt
Wednesday | November 22, 2017: 3 m run
Loc: Chicago Lakefront Trail, Temp: 32°/34°, Time: 31:22, Pace: 10:26 avg, Difficulty: easy, Felt: pretty good
Thursday | November 23, 2017: 7 m run
Loc: Kilbourne/VP Woods loop, Temp: 33°/32°, Time: 1:18:52, Pace: 11:16 avg, Difficulty: easy-ish, Felt: good, legs kind of tired
Friday | November 24, 2017: teaching strength class + 672 yd swim + 3 m run
Strength: ankle resistance bands, Difficulty: easy, Felt: good, but tired (sleepy)
Loc: FitNation, Time: 15:26, Pace: 2:18 min/100 yd, Difficulty: easy, Felt: great
Loc: VP Woods, Temp: 63°/63°, Time: 30:50, Pace: 10:16 avg, Difficulty: easy, Felt: great, especially to run in shorts and a tank!
Saturday | November 25, 2017: 5 m run
Loc: Millennium Trail to Pine Dunes and back, Temp: 43°/44°, Time: 52:14, Pace: 10:26 avg, Difficulty: easy, Felt: great!
Sunday | November 26, 2017: 10 m ride + teaching fitness boxing + 3 m run (incl. 4×400)
Indoor Ride Time: 37:58, Pace: 15.8 mph avg, Difficulty: easy, Felt: good, just sore butt
Strength: box and boxing, Difficulty: easy (all observing), Felt: good
Loc: Lake Andrea, Temp: 49°/49°, Time: 29:09, Pace: 9:43 avg, Difficulty: easy/medium, Felt: good!

Notes:
The Holiday Mile Challenge started this week! I have to log a mile (walking, swimming, biking, running, whatever) each day from Thanksgiving until New Year's Day. So far, so good!
Whiny whine whine – I was excited to see how many steps I got on Thanksgiving after a seven mile run then being on my feet all day. But my watch goofed up, and my steps didn't count from after my run until I reset my watch ten hours later. Annoying. I changed my watch to a new face that doesn't show my steps, cause I don't care when I don't see them! <— so dumb
Speaking of Thanksgiving, it bums me out to see people so stressed about overeating on that day. Yeah, don't eat yourself to the point you're uncomfortable, but it's a holiday! Indulge a bit! It's just one day.
And on that note, I did NOT do a 5K on Saturday because I'm just a bit too heavy now to go push it and see where my fitness is. Maybe I'll do one in December.
It's been kind of gloomy for most of the month, so it was nice to have the sun out for all of this week's runs (and to even wear shorts for my last three runs!). I would NEVER say that in the warm/hot months, ha!
The classes I teach at Essential Fitness feel like fun workouts with friends, so I forget, from time to time, that people pay to take the classes! Ha ha ha. I guess that's a good thing… if the students feel that way too!
Steven came with me on my Sunday run, to walk. Knowing he was there and that the sooner I finished my run the sooner I got to walk with him made me go a lot faster! And of course, my fastest interval was the one where we were crossing paths.
Ugh, I need to get back to figuring out time in my weekend schedule for a long run! I feel so good when I do one!
By
12 Responses to "Training Week 423"