Has anyone seen "Black Panther"? We were going to go last weekend, but every theater was sold out (of seats we'd sit in, anyway)! We have tickets to see it next Tuesday. I'm looking forward to it!
I got a bit emotional yesterday at the end of the day with my detail coworkers hugging me and wishing me the best and telling me they didn't want me to go! Thanks for reading my whining about work over the last few months. I know things will be fine, but I also need a place to express my frustration. So, thanks again!
I picked up Dietland by Sarai Walker in the discount bin at the bookstore last week and have been enjoying it! It's fiction, the story of Plum Kettle, an obese woman biding her time until she can have weight loss surgery. But she ends up meeting some people who challenge the way she's been living her life and lead her to question why SHE has to change. It's not all "ra ra, everyone is beautiful," but more "you don't have to conform to society's norms."  There's also a subplot of a "dangerous guerrilla group terrorizing the world that mistreats women." <— overall awesome description from, me, per usual, ha. It's not my typical read, but I'm glad I picked it up! I'll read 

The Wild Truth

next. And P.S. I should really get a library card.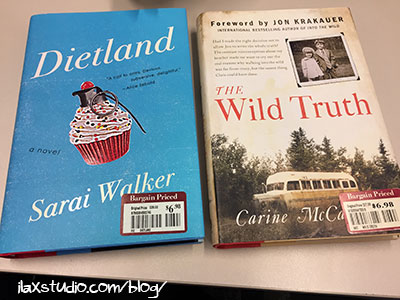 How does March start next week? This month has flown by! I really need to focus on my nutrition and training in March to get ready for my April 7th 5K. I am looking forward to doing that!
By
18 Responses to "Random Thoughts Thursday 169"