Day 22 | November 9, 2009: Stretch and Strengthen
Same strength routine as last Thursday. I was having a very stressful and hectic morning at work, and tried my hardest not to let it affect my workout. I hoped breathing slow and taking my time would calm me down. It did, a bit, but I still did the routine faster than normal. At least it felt somewhat easier, which I take as a sign than I can start trying heavier weights soon.
Day 23 | November 10, 2009: 3.5 m run
All of our evening runs are in the dark now. Did you read the Runner's World online article Run to the Dark Side (it's an old article that was in this week's newsletter)? In the third paragraph they mention how runners have always been warned not to run too close to bed time, because they'll feel wired all night and won't be able to fall asleep. But then they go on to discuss a University of South Carolina Study showing that people who exercised intensely for one to three hours were able to fall asleep a half hour later.
First of all, I hope the people in the study refueled with food and drink since they were working out for so long. And secondly, they were able to fall asleep because they EXHAUSTED their bodies! Anything over an hour is fairly taxing. For me, anyway.
Do you ever have issues falling asleep after an evening workout? I don't. Not recently anyway. I have had issues of waking up an hour before my alarm since we switched off of Daylight Savings Time.
I decided to wear shorts for this low 40°F temperature run. I told Steven that my white legs would work well as reflectors! The wind on my legs made me feel like speeding up, so I did! Or so I thought. Our first two miles were almost the same as last Tuesday! Wah. Hmm. At least we're consistent?
Distance: 3.50 | Time: 36:24 | 1: 10:42 | 2: 10:38 | 3: 10:18 | 4: 4:44

Day 24 | November 11, 2009: 2 m run or cross
Hooray for Veterans Day and having the day off! Steven and I went on a relaxing, slow and long bike ride at the same place we rode last Saturday. We both had sore legs before, during and after.
If you click on the "cross" link above, you can check out our garmin stats, and it shows an interactive version of the little map below. It's fun to get home and look at the map and see how far we went!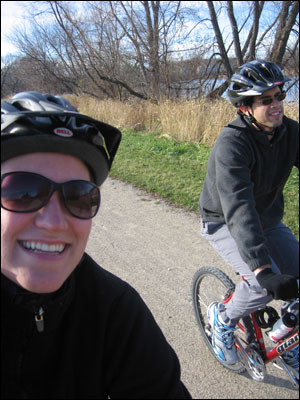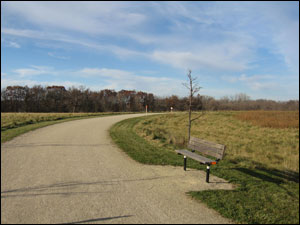 Bike Time: 1:25:47 | Distance: 12.30 miles
Day 25 | November 12, 2009: 3.5 m run + strength
I didn't get my full strength workout in because my fellow gymmates were annoying me so much – I had to get out of there! (One person was using the weight machines to balance themselves while they did karate moves. WTF? A few other people were chilling on the weight machines, waiting for the gym manager to show them how to use them.) On the plus side, the gym manager interrupted me in the middle of using the leg press machine to show me how to improve my form. And, I upped the weight on a few moves.
Seated Row: 15 @ 30 lb, 15 @ 45 lb, 15 @45 lb
Lateral Raise: 15 @ 31.25 lb, 15 @ 43.75 lb, 15 @ 43.75 lb
90 Degree Chest: 15 @ 20 lb, 15 @ 40 lb, 15 @ 40 lb
Shoulder Press: 15 @ 20 lb, 15 @ 20 lb, 15 @ 20 lb
Pectoral Fly: 15 @ 30 lb, 15 @ 45 lb, 15 @ 45 lb
Arm Curl: 15 @ 25 lb, 15 @ 25 lb, 15 @ 25 lb
Leg Press: 15 @ 60 lb, 15 @ 60 lb, 15 @ 80 lb
Leg Extension: 15 @ 30 lb, 15 @ 45 lb, 15 @ 45 lb
Hip Abduction: 3 x 15 @ 115 lb
Hip Adduction: 3 x 15 @ 55 lb
I don't know what my deal with Thursdays is, but I always just want to chill. So I asked Steven if we could run on Friday (We ended up watching The Ugly Truth and chilling. It was kind of funny? I love Gerard Butler but he didn't look as good as he normally does. This is Sparta!)
Day 26 | November 13, 2009: Rest 3.5 m run
I am getting really sick of running circles in the park, so we ran through the neighborhood instead. I could feel it on the top of my right foot (we did right turns) right away. And the next day. Boo.
Distance: 3.51 | Time: 36:51 | 1: 10:45 | 2: 10:39 | 3: 10:29 | 4: 4:57

Day 27 | November 14, 2009: 40 min cross
We took a very leisurely walk through the neighborhood. It was nice enough to ride our bikes during the day, but I accidentally (?) feel asleep and kind of wasted the daylight. So… walk it was.
Distance: 2.77 | Time: 44:53 | 1: 16:18 | 2: 16:12 | 3: 12:22
Day 28 | November 15, 2009: 5 m run
Whoa! Check out those awesome negative splits below! The rapidly setting sun must have made us speed up – I was worried we were going to get kicked out of the "we close at sunset" forest preserve. We had a super busy day and were trying to get out of the house to run. We didn't make it to the park until about 4:00, and yeah, doesn't the sun set at 4:30 now?
Who cares! This run was a whole 5 minutes and 28 seconds faster than last Sunday's 5-miler. Boo-fuck*n-yeah!
(Okay, my breathing sucked the last mile (Steven kept saying "breathe!") and my shin was a bit achy. But I feel pretty good!)
Distance: 5.00 | Time: 49:48 | 1: 10:18 | 2: 10:06 | 3: 10:01 | 4: 9:50 | 5: 9:30

Week Summary: 14.77 miles
I feel really good about our training this week. I hope we can keep it up! We bump up to weekday 4-milers next week and a Sunday 6-miler. We have a crazy week ahead of us (see tomorrow's post) so it will be interesting to see how much we can fit in!
By
9 Responses to "Half Marathon Training Week 4"