This morning I decided to run a local race – the Take a Step for Kids 5K (also a 10K). I thought I could try for a PR since I had been trying to have more fun with running lately. I thought maybe if I went in without all the anxiety I could do it. 
Nope. Ha ha. 24:25. My 5K times this year have gotten progressively slower – 24:00, 24:03, 24:25?!
It is time for a break from racing*. 
I am not in the right mental or physical shape to do it!
I know if I lost about 10-15 pounds running faster would be a lot easier. But I don't really want to stress myself out about losing weight right now. So it if happens it happens. 
I'll just keep running for fun. 
Because I am having fun. Even today. I ran the first 1.5 miles with my running club friend Yvonne. I felt great when I was with her but then mentally fell apart when we split and decided I didn't care enough to push it. 
But I got to see Yvonne and Bobbi both come in at the finish with 10K PRs! And Yvonne and I both placed in our age groups  (first for her, second for me – first place in my age group (20-29) was 9 seconds in front of me!).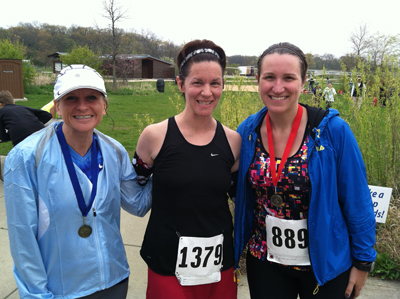 *Not to be confused with running races, ha ha.
By
24 Responses to "Take a Step for Kids 5K Race Report… no more racing!!!"