Do you think you are more likely to get outside support from family and friends when you are going through something tough (job change, move, relationship issue, death, etc.) or something more, hmm… positive/in your control (going for a promotion, taking a new class, training for a race, etc.)? Or is it the same either way?
Gosh, I know it was a long time ago now, but I often think back to when I switched jobs in December 2008. Some people were really supportive. Some weren't. I feel like it showed people's true colors. And I felt this sense of community support by those who encouraged me. 
(Don't worry, this is going somewhere… I hope.)
Coincidentally, the day I wrote the "secret news" post in January, I acquired some "secret" news of my own*! You guys know I have been training with Brian at Essential Fitness LLC for over two years now – doing both one-on-one and group sessions. Well, that day, Brian asked me if I would be interested in teaching the Monday night strength class!
Holy cow! YES!!! What an honor to be asked. To know that Brian thinks I am strong/capable/fit enough, and have the right personality to teach?! What a compliment!
So, Brian and I've been working together a lot and I taught my first class last night! It was a blast!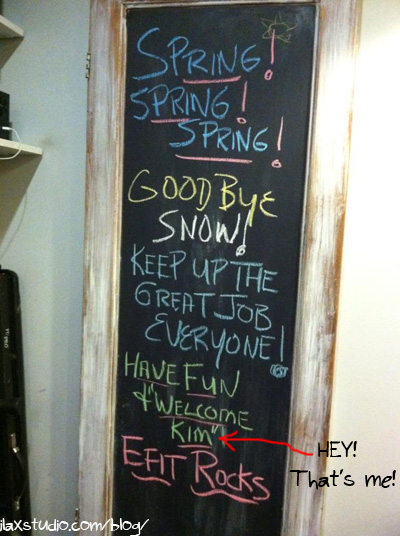 So how does this relate to my initial question? Well, I didn't tell many people about this at first. Just Steven, my besties, and my parents and snister. I wanted to keep it quiet while I got ready/until I taught my first class, to make sure it was a good fit for me. 
But as I spent time with more and more people, I found it coming out of my mouth that I am studying to become an ACE-certified Personal Trainer (edited to add: my goal is to take the exam in May). And I told them I would be teaching. Gah! I was so excited I couldn't keep my mouth shut. 
And the amount of support astonished me (phew, I finally connected it to the first sentence… I hope). I mean, really. Everyone had such nice things to say to me – about what  great fit it would be, how it was perfect for me, how I'd rock it, how it would be a kick-arse workout, and so on. I was just floored by everyone's support. 
So it seems like now I need to replace that December 2008 job switch memory with this. Because this is much better. Ha ha. It feels so good to have this support and enthusiasm from my friends and family on this new endeavor!
And hey! If you are local, and interested in checking out my class, drop me a line! Class is Mondays at 6:30 and you can read more about what we do here**.  And it's super affordable. 
*And one more person's, who saw the post and emailed me their news.  
**There are two trainers named Kim. I teach the evening session. 
By
85 Responses to "New gig"