One of the (many) things I love about the studio where I teach is the close-knit, family atmosphere. We keep our group classes smallish – about 8 people max. You have the opportunity to sign up for weekly classes in month blocks  (which most do) or drop in from time to time. You get to know the people with whom you're working out. Better yet, I get to know the students. I become familiar with their strengths and weaknesses, their favorite "mode" of workout, what kind of music they prefer… even though it's a group class, I get to make it somewhat personal.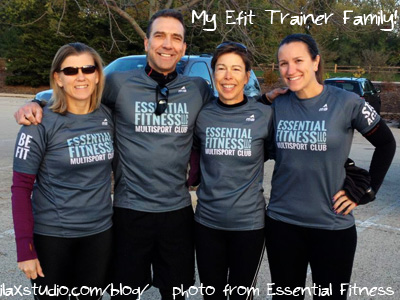 I've been thinking lately about how lucky I am to work at Essential Fitness (Efit). To have a job I really look forward to and enjoy, to spend time with what I consider my "workout family," to build people up and to build relationships. To have flexibility to design/customize workouts to what my students and I prefer/enjoy. 
I know. So cheesy. 
Along with that cheesy thinking, I have wondered what it would be like if I taught at a gym that was set up different. Or, maybe just more traditional – certain types of classes offered at set times and people drop in as they please. There would be "regular" students, but I wonder how deep you would get to build that relationship, if you didn't really know who was going to show up each night. Just something I have wondered! Both types of set ups have their perks!
If you take a strength or fitness class, what is the atmosphere like? Do you feel like it's your "workout family" and you're building relationships?
---
Even though I have 2-4 races left this year, I am getting REALLY excited about doing my 2013 Racing Statistics Infographic! If you are done racing for the year or want to get an early start on yours, check out my post from last year for a template to get you started!
By
12 Responses to "My "workout family""