Running the COOL 5K last year with Bobbi and Gina was a lot of fun. The race is always the Saturday after Thanksgiving, at a wooded local forest preserve, on crushed limestone trails. COOL stands for Christian Outreach of Lutherans. Their mission is "is to give comprehensive assistance to families in need, by reducing hunger and homelessness while encouraging personal growth and self-sufficiency." So both the proceeds and donations from the race support their mission. And I brought some donations this year!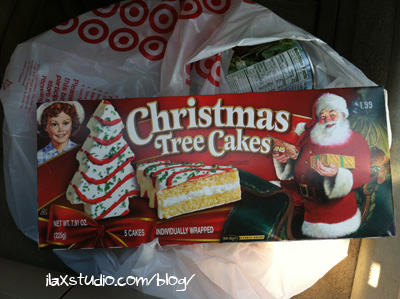 Ha ha ha. I donated canned goods too!
So, small race, good cause and on trails? My type of race!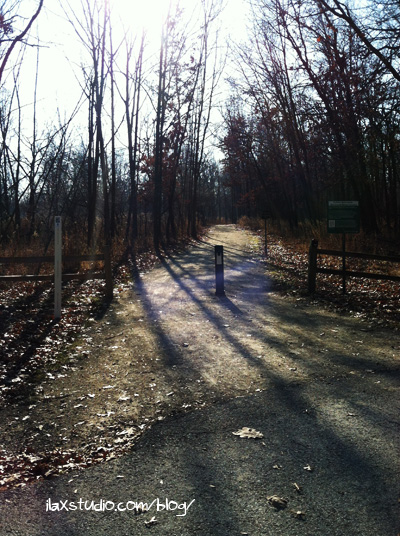 I had hoped to come back and do the 10K this year… I just wasn't sure in what capacity. When I first started getting the emails from COOL during the summer I was thinking, "I can just stay in shape after my marathon and try to PR!" Then, I didn't really do any speedwork for the marathon, and it took me awhile to recover from it, and I was all "Forget that race. I am not 'racing' anymore this year." Then this week I somehow caught an end of the year racing bug and felt bummed about not doing a turkey trot on Thanksgiving. Geesh, Kim! Make up your mind! So this morning, I decided to do the 10K, after all. Hooray for race day registration!
Of course, I decided I should go for a PR effort (which would have to be average 8:12 pace or lower) even though I hadn't trained. And on a crushed limestone course. With some slight inclines. On a windy day. This makes a lot of sense.
That "effort" lasted two miles. Ha ha ha! Then I decided I needed to slow the heck down if I wanted the race to not entirely suck. It's funny, even though I was running fast for me, I am not sure if a 10K has ever felt like it's taken so long! Maybe because I was by myself for most of the race? When we FINALLY reached the turn around, I commented on how relieved I was to see it to the men behind me, and they didn't share my sentiment. Ha ha.
The nice thing about the turn around was that it was a somewhat out and back and I could see I was second woman overall and that gave me some motivation to not slow down tooooo much in the end.
My official time was 52:27 for a avg 8:27 pace (updated: results changed to 52:46, 8:30 pace). I did end up being second overall, and first in my age group. Luckily, the woman who beat me was not in my age group (as she got first overall and first age group, and they only did first place for 10 year age groups <– if that sentence makes any sense), so I received a placement medal, which is always fun.
Lessons learned: Kim, if you are going to bull shit a race (not train), do a 5K, not a 10K. And when you bring arm warmers, trust your instinct and wear those instead of your UA ColdGear. Gah. I was too hot!
I am proud to say that I kicked butt on running the tangents. The trail is a but curvy in spots, and I made all the right running path choices. Must have been annoying to anyone trying to pass me. It probably seemed like I was trying to block them!
And! It was fun to see some people out there from Efit kicking butt on the trails too!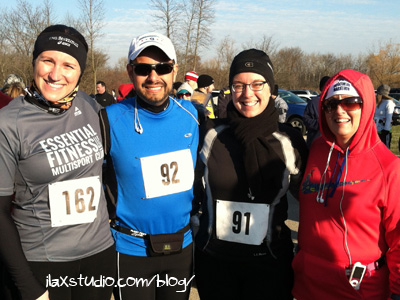 And (one more thing)! I love that they give out head gear instead of a tee. Last year it was a stocking cap, and this year, a headband. So useful!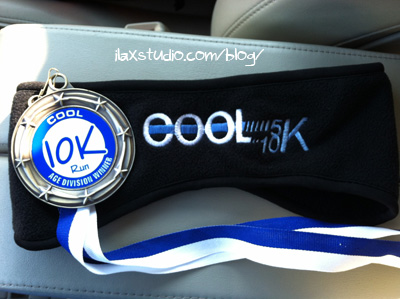 I hope to do this race again next year – it's well organized and the people who put it on are super nice. Maybe I should just train, if I plan to have a pace goal. Ha ha. Nah.
By
16 Responses to "COOL 10K Race Report"