When you're sick/ill/recovering from something, who is the family "nurse" that takes care of you at home? Or maybe it's a friend? Or maybe it's you?
On Thursday Anne was telling me that her husband's dentist has advised he gets his wisdom teeth removed, and it reminded me that I owe my sister, big time. 
See, I got my six wisdom teeth removed the summer after my freshman year of college, and I was a bit of a mess afterward. Probably just the typical after effects of getting them removed, but a bit more, um, drainage, because I had a couple extra teeth.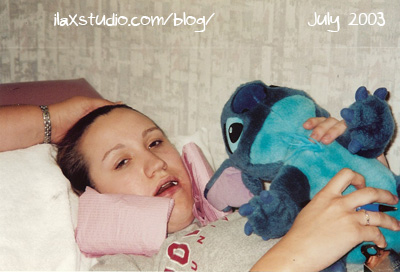 Aren't you happy I scanned this post operation pic for you?! So, my mom and sister gave me a pad of paper to write on after the operation, since I couldn't talk. I was all drugged up, and the notes were pretty funny. I only recycled those a few years ago. Dang, should have scanned them! I bet there was some brilliant stuff in there!
I was staying with my Grandma at the time, and my mom and sister were over to take care of me. Who did I expect to help me out? My mom? Who was completely grossed out by me? My mom! Who helped me out? My sister! My thirteen-year-old sister took care of me. Thanks, Snistina!
She (Christina aka Snistina) is due to get her wisdom teeth out this summer, after her wedding. I will totally take time off from work and go take care of her, if she wants me to. Of course, she might prefer her husband do it, ha ha! Steven is my current nurse, after all… but writing this makes me think of all the ways my snister helps me out. Like doing my hair for a wedding… and helping me with unmentionable things at my own wedding! Aww, snister love! There are some things I could only ask her to do!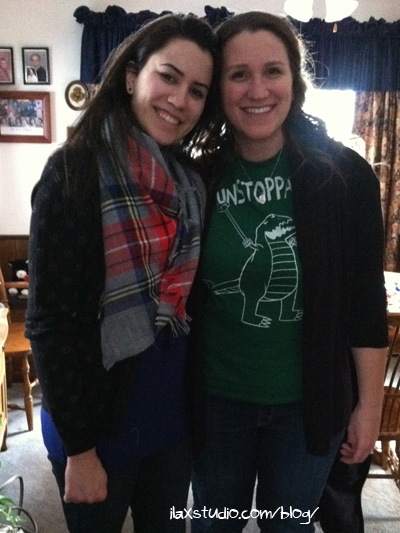 By
14 Responses to "Who's your nurse?"