This is not a sponsored post. This is something two of my close friends are doing, and I think is so fantastic, I want to share it with you. 
Have you heard of I Run 4? I Run 4 is a program where runners are matched with a child or adult with special needs, or the sibling of a child with special needs (Unsung Heroes, see below). That person becomes the runner's "buddy," and, you guessed it, the runner runs (or does other activities) for them! 
Each runner interacts with their buddy or their buddy's parents through the group's buddy Facebook page or the group's sibling Facebook page, posting about the runs/activities they have done for their buddies and sharing photos. Runners are encouraged to wear their buddy's name during a race, make a special shirt for their buddy, make them signs, take photos with something special they like, or (with permission) send their buddy race medals! The I Run 4 site has merchandise ideas, as well. 
What a cool program, right?
I was really surprised I hadn't heard about this until recently, when two of my friends started participating! Dawn has had a buddy for quite some time, and Kelly just got hers! I sent them a few questions so I could share their experience with the program!
Thank you so much to Dawn and Kelly for letting me interview them and sharing their photos (and getting permission to post them)!
How did you hear about I Run 4?
Dawn: Through the Grayslake Running Club [four other members of the club participate in I Run 4].
Kelly: My best friend told me about the organization after I expressed a concern for future motivation. I returned to work in December, accepting a weekend nurse position. The only con to accepting this position would be losing my weekend long run and signing up for weekend races. Dawn suggested I sign up for a buddy to keep me motivated by sharing my running journey. Having someone to run with and/or for is motivationally inspiring!!   
Why did you decide to participate in I Run 4?
Dawn: Because I have a high school classmate who had a terrible car accident 15 years ago that left him disabled.  At our 30th high school class reunion (in 2012), I was humbled at how much he lost (though he's not in a wheelchair, he is considered "disabled" and cannot drive or work) and had to depend on others for just the basic things to live life (like getting to the grocery store, doctor, to an event).  It made me realize how fortunate I truly was to be able to run and do crazy things like Spartan races. 
Kelly: I agreed with Dawn's suggestion. I researched the organization right away but then held off questioning if my running/walking/biking journey would actually motivate or inspire another. Once Dawn was matched and I started seeing all of her posts, I saw the excitement and gratitude from her, her buddy and his family.  So I signed up in early June.
How long did it take to be assigned to a buddy?
Dawn: About four months. 
Kelly: Several weeks ago the I Run 4 organization started a buddy program for the siblings, referring to them as the Unsung Heroes. In the short time I have been involved with I Run 4 several of the buddies have passed, leaving many siblings behind.  For the siblings who have a special need sibling, they often feel left out/behind. Having a buddy, just like their special needs sibling, would help bond their sibling relationship. I signed up for a sibling buddy at the beginning of August and was matched on August 10th! 
Do you put any requests in for the "type" of buddy, or fill out a sort of questionnaire?  
Dawn: You can select to be a buddy for a child or an adult or either.  Other than that there wasn't any other questions that I recall had to be answered. 
Kelly: No. I just submitted my name and basic demographic information. 
Are there costs to participate?
Dawn:  No, but you have to have a Facebook account because that is the way runners and buddies communicate.  I am also "friends" with his mom, though I don't believe that is required.   It just lets us be more "connected" and supportive. 
Kelly: No.
What costs have you incurred on your own?
Dawn: I bought Zach a $3.00 t-shirt and bought a "Dawn Runs 4 Me" iron on decal. I have also bought 2 "I Run 4 Zach" decals for my car and I've registered for 3 virtual races (a 10k already run, a 5K and a half both coming up in September).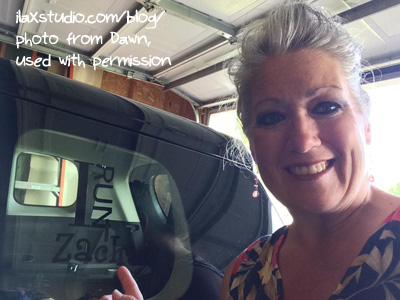 Kelly: Thus far none, however I have only been matched for a week. I plan on making temporary tattoos, shirts and possibly a tote bag for myself & my buddy.
Does I Run 4 give you guidelines?
Dawn: They have guidelines on what can be posted in the Facebook group. It is to be a positive atmosphere. You cannot post links to races or fundraisers. You are not allowed to use derogatory language.  The I Run 4 organization also has a separate Facebook group for virtual races where the medals that come with your paid registration fee already include a medal for the buddy. Usually with these virtual races you can also purchase additional medals (ie for a sibling) and/or tshirts other gear at reasonable prices.  Proceeds, I believe, go back into the organization. 
Kelly: Yes – there are rules on the Facebook page. 
Kim's Edit – rules such as not to leave your buddy behind (it's a permanent match), I Run 4 Siblings must have a special needs buddy already matched, one runner will be matched to one sibling, only matches made by I Run 4 will be honored, matches will be made according to the waiting list. 
Does I Run 4 set things up for you?
Dawn: They provide you with your match's name and contact person (typically a parent).  They provide ongoing support to rectify buddy/runner issues (eg needing a rematch, etc.).
Kelly: Yes, the organization does all the matching the posts the matches several times a week on the private FB page. The runner & parent are tagged in the post. It is the responsibility of the runner & parent to initiate contact and post. 
How often and how do you interact with your buddy?
Dawn: My buddy is 8 years old.  I try to post at least once every day. Sometimes I post more than once.  I don't worry about if his mom is posting back but if I don't see any activity (such as a 'like') from her for a day or two, I'll double check to make sure she sees the post because… you know… Facebook can sometimes be cranky!  All interaction has been through Facebook. His mom and I are "friends" on Facebook.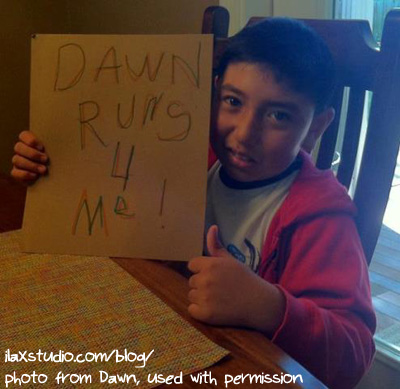 Kelly: I post to the FB each time I run and/or bike, so about 4-5 times a week.  I may also post when my 4-year-old son does a race. My buddy seems interested in my children, so I may post his races to see if she likes them. 
Have races been accommodating in providing extras (medals, etc.) for you to send to your buddy?
Dawn: I was matched June 13th and since then I've done 2 races that had finishers medals (a half and the tri relay).  In both cases, after sending an email inquiry advising I run for a disabled 8 yr old boy through I Run 4, a 501© charitable organization, I was given an extra finishers medal for free.  The half I remembered to ask before I ran… the tri I… oops… forgot and sent the request after the race. 
Kelly: I completed the Iron Girl in Pleasant Prairie, WI on August 10th. Since I was matched so close to race day I assumed fetching an extra medal impossible. Boy was I wrong. After Dawn contacted the race director and explained the I Run 4 program they accommodated her request, free of charge. I received an email this morning that I will also receive a medal for my buddy! So excited to share the news with her!!!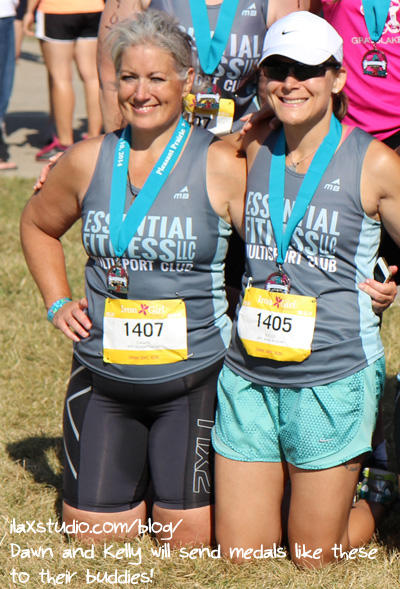 I will be participating in a virtual half marathon sponsored by I Run 4 on September 1st. The money goes to medical care for one of the members. They often have these virtual races to raise money. The best part about them is the nominal fee includes a medal for my buddy!! 
What kind of activities do you share with your buddy?
Dawn: I share anything fitness related…yoga, EFit classes, rowing, races, every-day-runs, etc.  I try to remember that my "audience" is 8 yrs old, so I try to post pictures (of me, something cool that I see, silly pictures to demonstrate something about my post) or use those smiley face things.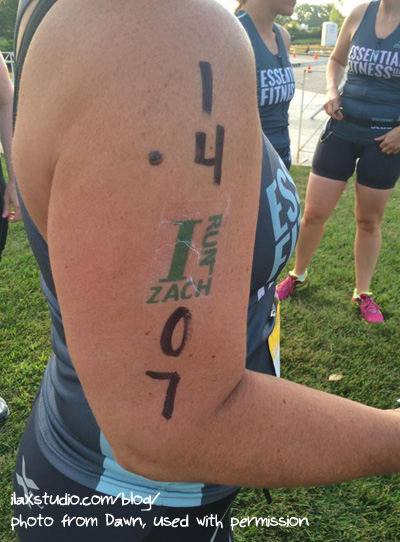 Kelly: Running and biking. Hoping to share other activities in the future!
Can you meet your buddy?
Dawn: Yes, you can. I have not officially asked his Mom but I am hoping that I can next year.  He lives in Rhode Island. I've never been there!
Kelly: If the Navy transfers our family to the east coast next year, then absolutely!! Many of the I Run 4 members meet each other. They post their photos on FB. It is so sweet!!!
How does participating in this make you feel?
Dawn: Awesome!  When I first started "racing", it was important for me to get some "bling," but then after my 30th high school class reunion and most definitely after I came into this organization, that focus shifted… it was no longer about me, but about someone else.  Someone else who couldn't do the basic things I take for granted every.single.day!  I believe I am making a difference in Zach's life… seeing his eyes light up when he's gotten our bling is priceless and that makes me want to try to do even better for him. 
Kelly: I am excited to share my journey with a young girl. To inspire her, to motivate her, that is an awesome gift. 
How do you think this makes the buddy feel?
Dawn: I hope fantastic! He always has a big smile on his face when his mom sends me a picture.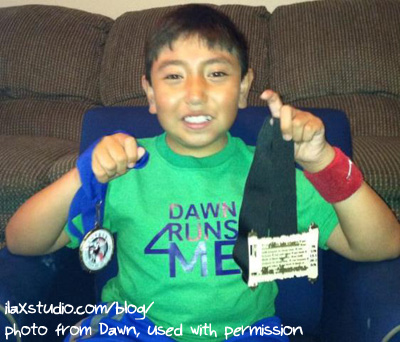 Kelly:  Her Mom has told her she is very excited and thinks it is AWESOME!
Who do you recommend does this?
Dawn: Anyone who is willing to dedicate some of their time to another individual, in whatever format that may be. 
Kelly: Anyone looking for motivation through inspiration. This is, can be, a powerful journey. Reading the trials and tribulations that so many children and their families struggle through each day, puts life into focus. 
Anything else you would like to share?
Dawn: I now truly understand how fortunate I am to be healthy and active and have healthy, active children.  When I have a "bad" day, I know I'm not really having a bad day because I can see firsthand that there are others who are much less fortunate and are dealing with things of a much larger magnitude.  Although it isn't required, I do feel that part of my role as a runner for my buddy is to help promote awareness/educate myself about his condition(s), and provide support in ways that I can. I have signed up for a couple of newsletters from various organizations that focus on Zach's disease, and am trying to find a local support group that I can become involved in. 
Kelly: Most days I can easily get up out of bed, dress myself and go run 5 plus miles. This is not a possibility for many.  I run for those people. Because one day I may be one.
Thank you so much, Dawn and Kelly!
Dawn mentioned that they are in need of buddies! There are over 2,500 runners waiting to be matched! If you have special needs and want a runner, fill out this form! If you want to be a runner for someone with special needs, fill out this form! If you want to be a runner for a sibling, fill out this form!
By
19 Responses to "I Run 4"