Wow, today marks three years that I have been teaching strength classes at Essential Fitness (Efit) – my first class was the first Monday of March in 2013!
The coolest thing about being a fitness instructor is seeing your students grow stronger – in their strength AND in their confidence in what they can do.
The second coolest thing about being a fitness instructor is getting paid to do something you LOVE!
And I am really lucky that I get to do it at a place with a great boss and coworkers (and students!) that feel like family.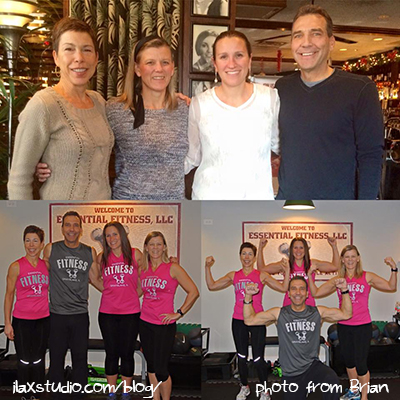 A little history – I met Brian, my boss, at a local running club event in early 2011. He'd had his business for awhile and came to do a strength training clinic and talk to us about the benefits of strength training for runners.
There was talk of starting a strength class for the club that year if we found enough people, and a place to do it. We did! In a friend's basement! Ha! I started taking the group class in March of 2011. The class was in that friend's basement until his wife told us to find a new place because we were smelling it up too much (buah ha ha). So we used a park district building for awhile, and I started doing one-on-one sessions with Brian, too. Eventually, over the summer of 2011, Brian had a studio built on to his garage at his house, and it opened in October 2011! Classes have been there, since!
In January 2013, Brian asked if I wanted to be an instructor. We worked together for a month and a half before I taught my first class*. I actually taught the Monday night class, and still took the Wednesday night class, and did a few one-on-one sessions with Brian for awhile after becoming an instructor, but I cut back on that all after several months. Now I teach the Monday night class, the Friday am class and weekend classes. I've had a few one-on-one clients that I see at the studio, too (none currently).
When I started teaching classes, A LOT of people asked me if I was going to quit my day job and have teaching be my full time gig. My answer then was no, and it's still no, now. The amount I teach now is perfect for keeping me passionate about it, and that's where I want to stay! We'll see what the future brings!
*I became ACE certified in July 2013. I definitely needed Brian's teaching and the class experience to understand what I was learning and pass the exam. Then I wonder how people get that experience without already having their certification… it just makes me feel grateful I have such a great boss who was willing to take me under his wing and teach me!
By
23 Responses to "Three years a trainer"