… until we ride Day 7 of RAGBRAI!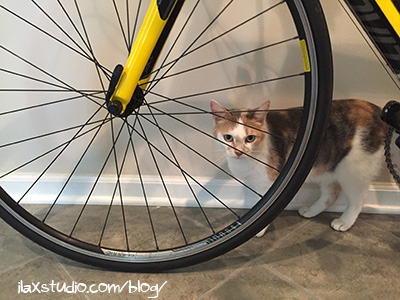 The actual week long ride begins in nine days, on Sunday the 23rd. Some people doing the full week have already shipped their bikes to the start! And here I am, planning on getting a few more rides in (on the bike I'll use at RAGBRAI) before the one day I ride, ha ha.
My bike band, wristband, and jersey came in the mail last Saturday. My team (Dad, Gina, Andrew, and me) will all be wearing this year's jersey the day we ride. RAGBRAI is one of the few events I do and don't feel silly for wearing this year's "shirt"!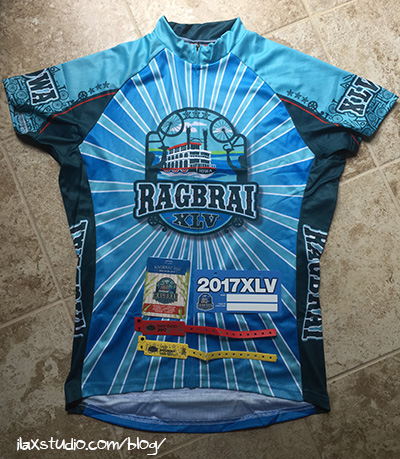 I'm excited to see "how bad" the hills are. And am wondering how much time, if any, I will have to spend out of the saddle (standing, not walking) to get up them.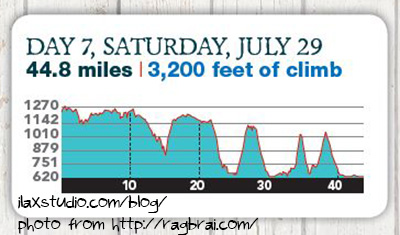 I'm excited that Andrew is trying it for the first time, that Gina is doing it for the second, and that Dad is sticking with me for the fourth year in a row.
I'm excited that more riding has gotten rid of my weird inner elbow running tan lines (it obviously has made the shorts tan line, worse, ha)!
I'm excited that doing RAGRABI is associated with extended leave from work for me, Steven, and Gina and family. It's going to be wonderful to spend all that time together.
FIFTEEN. MORE. DAYS!!!
Side notes:
Has anyone else watched the silly mockumentary on HBO, Tour de Pharmacy? It's a mock documentary about the 1982 Tour de France, with a lot of famous actors in it. It's so ridiculous – I laughed a lot.
And has anyone seen this video, The Backwards Brain Bicycle? We watched it in our work training this week. It's about how this guy trained himself to ride a bike where turning the handlebars made the wheel go the opposite direction. Well, and about what that says about our brain and learning.
By
7 Responses to "15 days…"