1. Overdoing it on Exercise (pdf copy)
This popped up in Google Reader today, when I was already feeling kind of sick but really wanted to work out… oops, one of the signs of exercise addiction. This is an interesting read on people who exercise so much it's negatively affecting their work, relationships, and health. Have you ever thought you might be an exercise addict?
2. Does your diet influence how well you sleep? (pdf copy)
This article really piqued my interest because I've been eating healthier and have had so much energy I am not sleeping through the night well AT. ALL. According to the article (among other things) – "For the study, very short sleep patterns were defined as less than five hours a night, short sleep was five to six hours a night, standard sleep was seven to eight hours, and long sleep was nine or more hours a night. Short sleepers consumed the most calories, followed by normal sleepers, then very short sleepers. Long sleepers consumed the least calories. Normal sleepers, however, showed the highest food variety in their diets, and very short sleepers had the least variation in what they ate."
Hmm. I am calling BS. It is true that I sleep like crap when I eat like crap, but why am I still sleeping like crap now?!
I am calling BS on this too (from the March issue of Men's Health):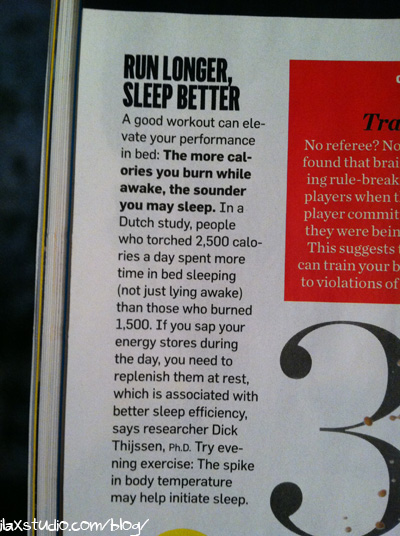 Or maybe my lack of sleep is due to item #1 above?! Hmm…
3. Most Americans take breaks from Facebook (pdf copy) & Dad pays daughter $200 to quit Facebook (pdf copy)
You guys know I love reading articles about the social dynamics on Facebook, so I had to share these two! People's comments on why they take breaks from Facebook was amusing to me. What causes you to take Facebook breaks? I actually know a few people who periodically go on and off of Facebook. I go to tag them, and they're gone and then I realize they are taking another break. 
4. Getting into your exercise groove (pdf copy)
An interesting article explaining how our bodies want to stay at their preset paces for running/walking, and that a strong rhythmic beat is a good way to overcome that (if you want to speed up step frequency). I would love to use this as an excuse to start listening to music on my runs again!
What are you reading this week? Any interesting articles you want to share?
By
26 Responses to "Articles I'm reading this week"