I meant to post this yesterday on my training recap, but forgot. Oopsie. And heaven forbid I wait for tomorrow… so hurrah, double post. 
FIRST THOUGH – things I do not want my neighbor to say to me – "All of that exercise is really starting to pay off!" Sigh. Said today, on the way back in to my house from a lunch run. This is the same person who asked me how much weight I was trying to lose, and yesterday, told Steven that he wished his wife would work out. I know he thinks he is being nice, but, ugh. It creeps me out. Stop paying attention to me, dude. I don't exercise for the main purpose of maintaining my weight or looking good. I do it because I like it. 

And hey! That is actually a good segue in to what I wanted to talk about. Or, at least, it's related. Ha ha. 
So I saw this text on one of those inspirational running pages on Facebook the other day, and thought, "NOPE! Don't agree! But, I bet at lot of others do…"
The race always hurts, luv. Expect it to hurt. You don't train so that it doesn't hurt. You train so that you can tolerate it.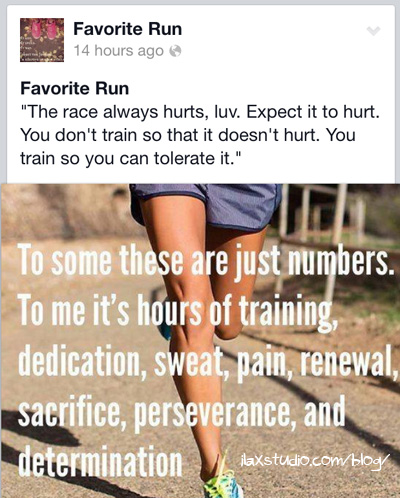 (And I don't have any idea about that quote in the bottom or how that relates… I just left it in there since it was part of the original picture). 
Nope. That is not "why" I train. Or, exercise, or whatever. I run mostly because I really enjoy it (as mentioned above, there, it's connected). I also run for companionship, as a lot of my friends are runners, and yes, I hope it keeps me somewhat healthy. 
But when I train for races, if I train to run a certain pace (this rarely happens), I am training so that that pace will feel more comfortable on the race day effort. Not so that I learn to tolerate the pain of running a fast pace*. I'm all about comfort, and fun, at races. I might push though pain at a 5K, but not even that often. I was SUPER pleased that my 5K PR from this year felt so easy. And I didn't think, afterward, "I should have pushed harder!" I was proud I could run that pace and not feel like complete caca. 
So. Yeah. I think my mindset behind this is a bit different from most people's. But, I am not a goal setter and am just kind of out there to enjoy things… so that may have to do with it. Races are rarely about pace, for me. It's usually about FUN!
Do you train for comfort or so you can "tolerate" a pace?
*I understand this is what elite runners do – learn to tolerate their crazy fast paces. But yeah. I'm not elite. Ha ha. 
By
16 Responses to "Train for comfort, not discomfort"