RAGRBAI stands for the Register's Annual Great Bicycle Ride Across Iowa. It started in 1973 when two feature writers for the Des Moines Register decided to bike across Iowa, and invited readers to join them. The ride has grown ever since and is now in its forty-fourth year. The route always starts on the Missouri River on the west side of Iowa, ends on the Mississippi River on the east side of Iowa, and takes the last full week of July to do – but the course changes every year! You can register for the whole week, or for a single day, which is what I've done the last three years (2014 – Day 7, 2015 – Day 4 and 5, 2016 – Day 7). 
RAGBRAI was a bit more logistically challenging for us this year than in year's past, but that did not stop us from having a bigger crew than ever before! Dad, Will (my snister's husband) and Julie (Will's sister) returned from last year, and we had two riders new to RAGBRAI – Gina (my bestie who lives in Texas) and Ashleigh (Julie's daughter)!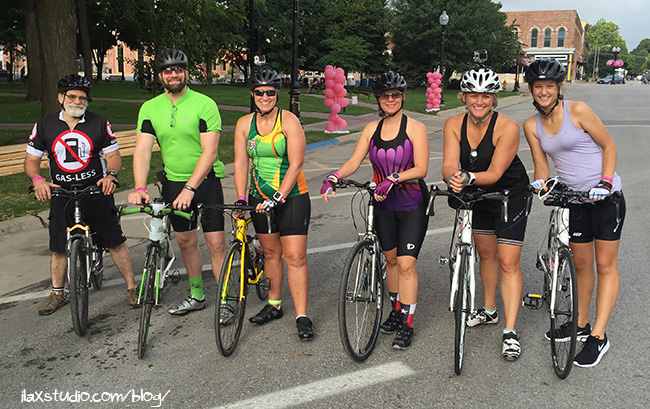 Dad, Will, Me, Gina, Julie, Ashleigh – we'll totes get matching jerseys next year! I think Fake Meats should sponsor us. Ha!
RAGBRAI was logistically trickier for us because the course went farther south, away from where we have places to stay for free, and ended in Muscatine, where no one lived nearby and could pick us up. And, we had four cars to figure out what to do with, and only two drivers! But we made it work – we got two hotel rooms (for four of the riders) in Coralville, which is thirty-five miles from the start in Washington, and took two cars to the finish the night before the ride, so we wouldn't have cars stranded in Washington (HUGE thanks to the Muscatine RAGBRAI group for helping us with parking!). My dad and Will (Will had driven up the night before from Kansas City) stayed in the town my Dad lives in (seventy-five miles from the hotel), then drove to the hotel the morning of the ride, and we took two cars to the Washington. Then Steven and Steve took both cars to the finish, left one there, and consolidated to one car to come back and "spectate." Phew. That's a lot of work! (And after we finished, we all had two+ hour drives to our final destinations!) So. Much. Coordination. But it all worked out!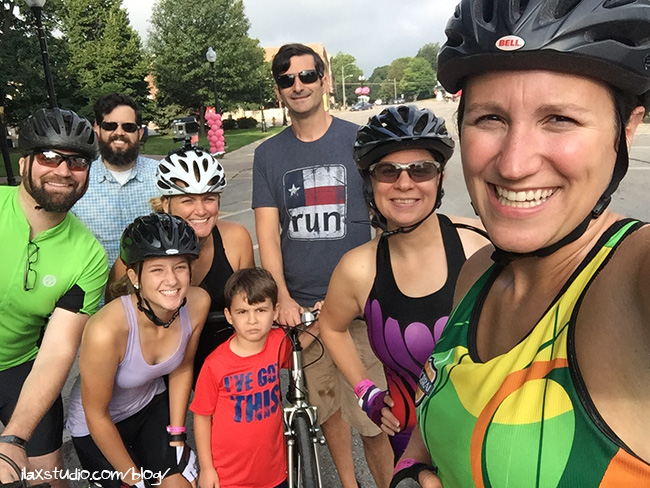 I just realized my dad skipped the group selfie (or did I cut him off?!)
The Day 7 Ride, you guessed it, started in Washington and ended in Muscatine. It was one of the shortest courses of the week at 49.7 miles, and had the least amount of climb, at 1,314 feet. This ride felt easy to me, especially compared to the days I rode the last two years of RAGBRAI. And an easy ride is fine by me!!!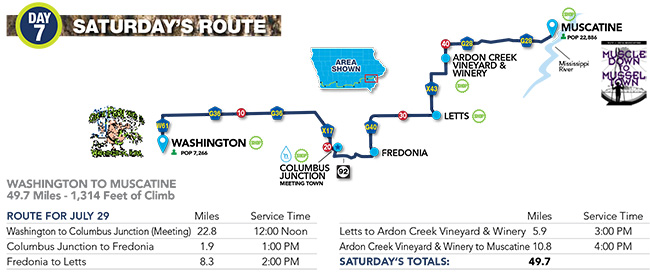 Map from here
One of the awesome things about doing RAGBRAI is that it's not a race, and you can start whenever you want! We got to Washington a bit after 8:00, got our bikes prepped, and hit the road at 8:41 am.

We were lucky enough to have a mostly overcast day, with only a minor headwind in the beginning. It was 70° when we started, and 81° and sunny when we finished just after 2:00 pm.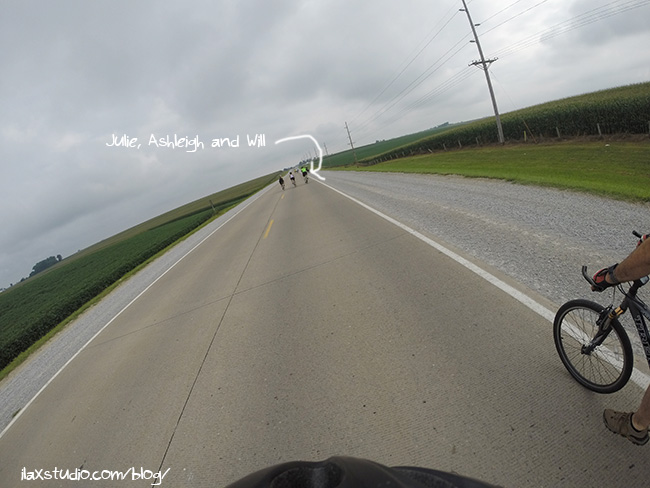 For most of the ride, Will, Julie and Ashleigh rode together, a half mile or so ahead of us, and Dad, Gina and I rode together. If people get separated for too long, the people in front would stop to make sure the others weren't too far behind. And those of us behind make sure to check all the "stops" to see if any of our people were there so we didn't pass them! We tend to average 13.0 miles per hour on our bikes when we do RAGBRAI, and that was our average pace this year, too.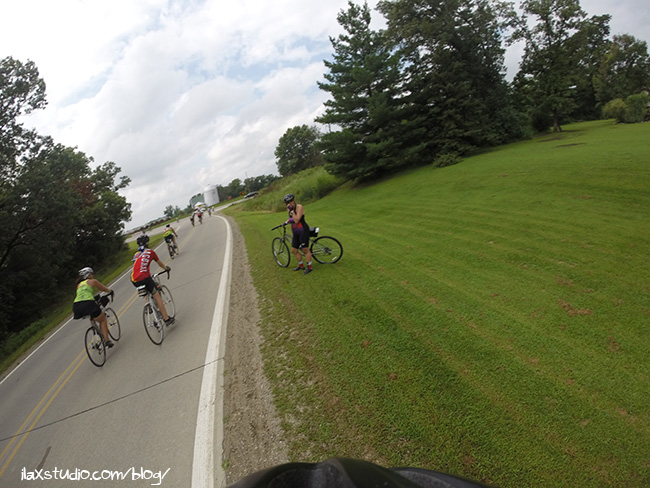 Gina waiting for me and Dad, at the top of a hill
On the RAGBRAI course, there are official "pass-through" towns, shown on the map above, but the route is also sprinkled with many other unofficial stops – organized groups (and randos, ha) selling food and beverage, lemonade stands, beer tents, signs that lead you to other amusements (we saw a slip-and-slide, and one stop had a booth to kiss a pig), and so on. It seems like it would be unusual to ride your bike more than a few miles without encountering something for sale (or being handed out for free) or to do!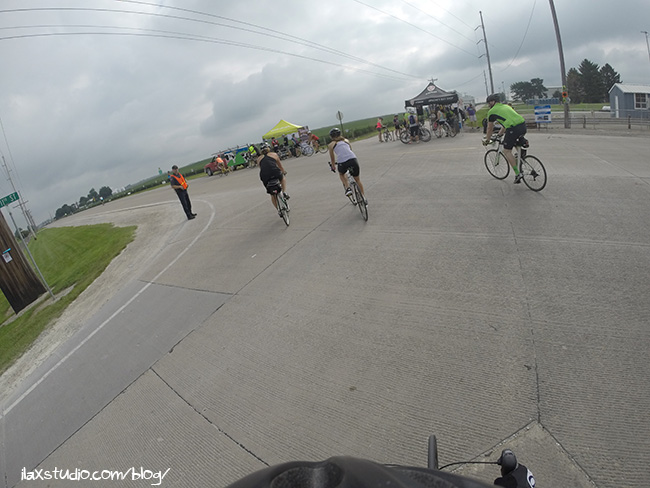 Tent in the background with free yogurt right after the start
So when we left Washington and all had to use the bathroom, we knew it wouldn't be long before we found porta potties, and it wasn't! We all stopped and went and fueled up, then got back on our bikes.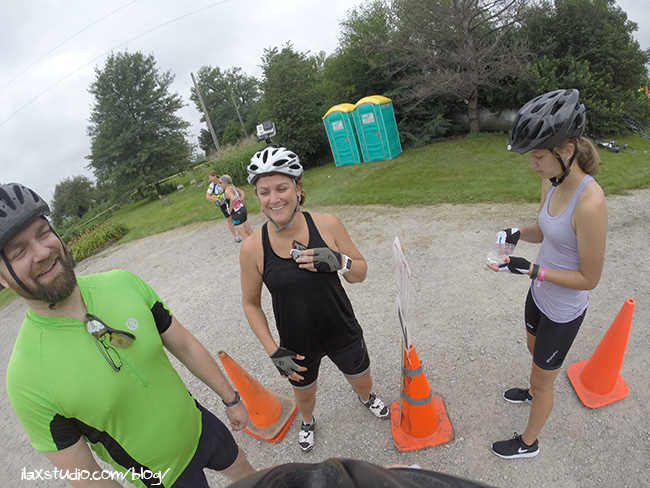 I stopped again shortly after to return a text to Steven about his and our progress, and we kept on our way.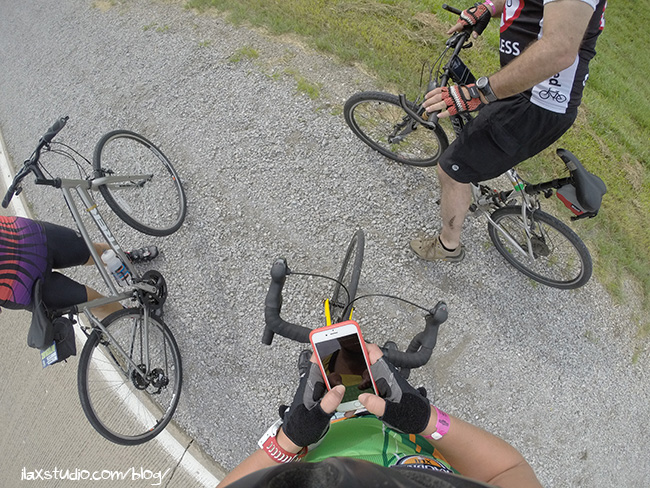 I've found I need to eat quite often when I ride – about every ten miles – to keep my energy up. I usually just eat every time we walk our bikes through a pass-through town, but with the first one not being until Columbus Junction, twenty-three miles from the start, I was happy for a stop on our way to fuel!
On the way in to Columbus Junction, they had an attraction to stop for – a swinging bridge. No, people were not riding their bikes across it, ha ha. Dad, Gina and I parked our bikes and got in line to check it out.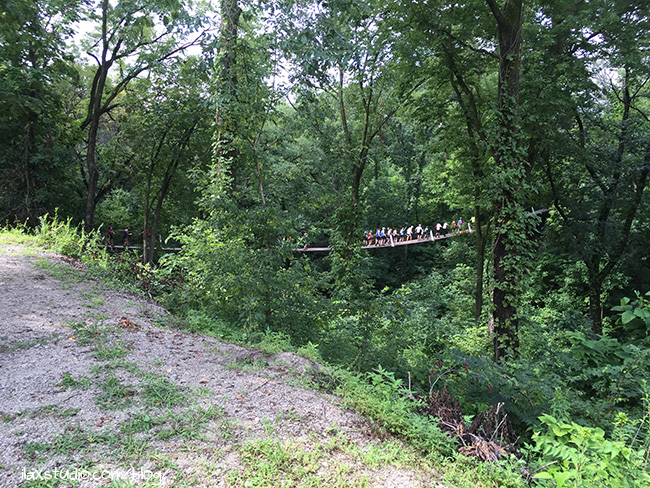 What a blast. I have a feeling all the riders may have been overloading that bridge, ha ha. If you walked down the center, it wouldn't move too much, but as someone came your way and you moved to the side, the bridge would tip toward whoever was heavier. Ha! Fun!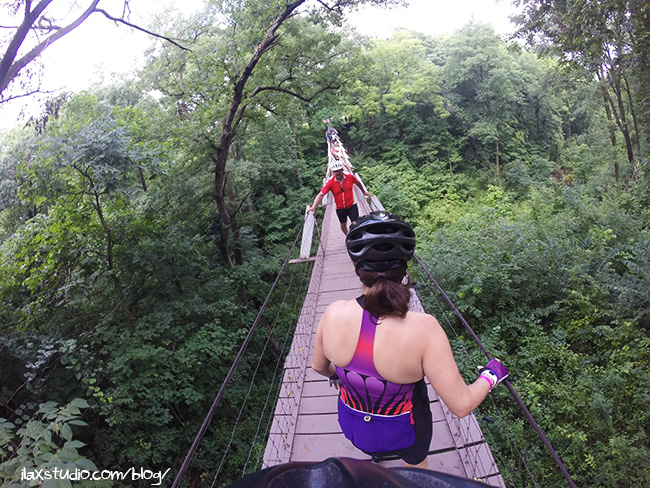 We made it across and back! Then got on our bikes with a bit wobbly legs!
We rode in to Columbus Junction with fanfare – LOTS of people and signs and food. Columbus Junction was the official "meeting town" – where RAGBRAI recommends drivers to meet their crew, and also, where the most food vendors were. The meeting town is not always the first town, and when I was thinking about the ride, I thought we might get there too early to feel ready for lunch, but nope! Just past 11:00 am was fine for all of us! We met up with our spectators and chowed down!
I also, er, "helped" Gina apply sunscreen during this stop. She asked for shoulders only but I may or may have not accidentally put a hand print on her back. Oops.
After we said goodbye to our spectators we headed out to Freedonia, the next pass-through town, at 1.9 miles away. Ha. We barely noticed we were going through a town. Oops.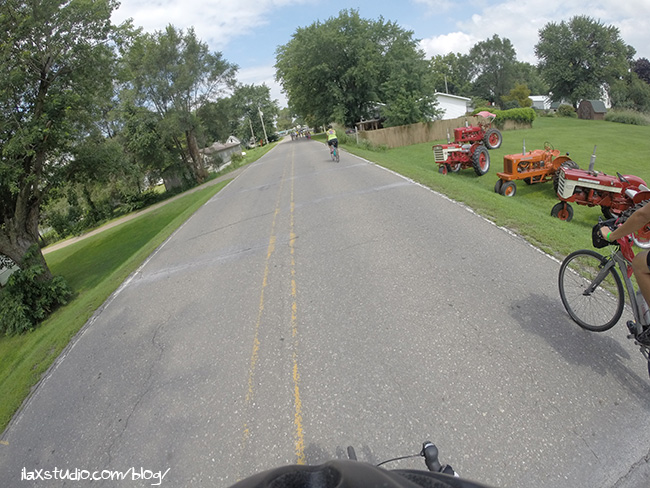 I think… that was it?
During this time I rode with a cyclist from Kansas City, Kansas for a bit, who drove up for the week to do the entire ride, for the first time, all by himself. He was in decent spirits, but some people seem to be a bit off by the seventh day (as I imagine I would be too) so I was happy when Gina rode up with me and I could say goodbye. Ha! (The conversation was going fine until he started talking about not wanting to use the free showers at the YMCA because he is not gay…)
For a lot of the ride, if I was riding next to Gina or Dad, we'd chat. I'd sometimes strike up a conversation with other riders, too, like these people I assumed had a TARDIS (I've never seen Dr. Who, but somehow know that name) on their helmets – nope, that would be a porta pottie. Or as they call it in (some parts of) Iowa, a kybo.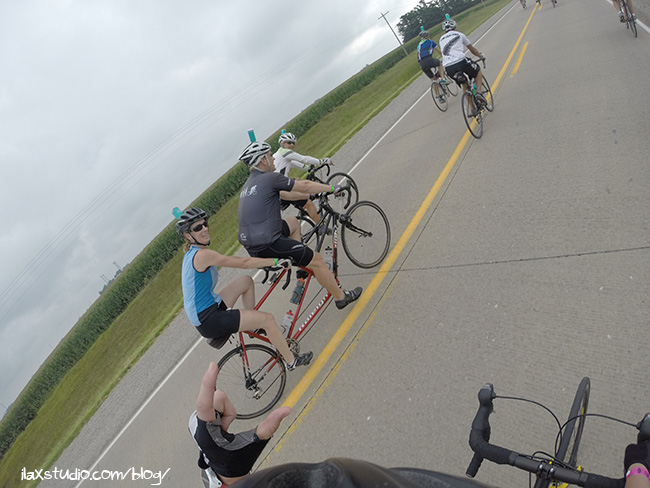 The next pass-through town, Letts, had a ton of people warning you to get off and walk your bike over the train tracks right before town. Gina and I obeyed and we were happy we did – those tracks would have eaten us alive if our skinny tires got caught in them. Then we see my dad cruise by and go right over them with his mountain bike tires, ha!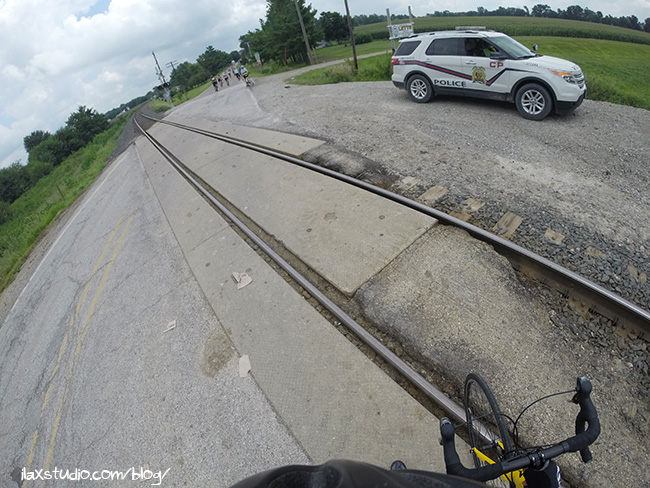 Letts had a little more going on than Freedonia! We filled up water there (I think that is the one time I filled for free – other times we paid for bottled, and I had Vitamin water in the car I'd put in the other bottle on my bike). The lady sitting on top of the water tank said "this is probably the biggest thing that will ever happen to Freedonia!"
Thanks, Dad!
From Freedonia, I knew we'd see our spectators just past the Ardon Creek Vineyard and Winery pass-through town. You know, the one I thought would have an actual winery? Nah, it just seemed like a big tent set up. Maybe the winery was down a dirt road we couldn't ride on? I think that (the tent) may have been it for that pass-through town, too!
But we did come across a tent where some Amish were selling pie, desserts, ice cream made on the spot, and pickles! We all got something. I got a pickle and unfortunately, it was no bueno, but everyone else said their desserts were awesome! Eating pie on RAGBRAI is a big deal, and you often see "pie seekers" – people who wear a giant pie on their helmet (like the Wisconsin cheese hat) and that are searching for whatever type of pie they're wearing. We didn't see any, but when Gina found out about the pie, she was dead set on getting some, and greatly enjoyed it!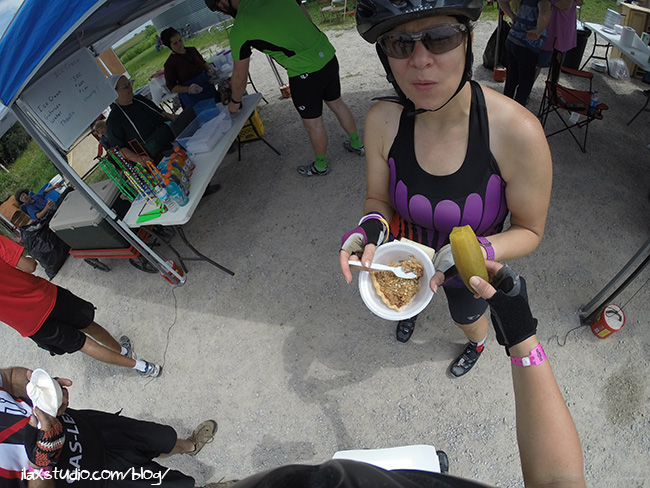 Thankfully, the roads were mostly smooth for riding. I think RAGBRAI rides the route to make sure of that! I only remember a few pesky road seams between Letts and the winery town and that was it. And we had a few fun declines! I think I maxed out around thirty-three miles per hour on the downhills.
We found our spectators where they'd said they'd be, and had our last meet up until the finish!
Mr. Jersey Model
After seeing them, we only had about ten miles to go. The whole ride flew by. The ride in to Muscatine after seeing them was easy, except for a startling moment when some doucher was flying a drone over the road, and also blasting a train horn at the same time to frighten people and capture their reactions. What the heck.
Unfortunately, my backup GoPro battery drained during the ride so my GoPro died before we rode in to Muscatine! Blah! So I didn't capture the dip site (you dip your back tire in the Missouri when you start and your front tire in the Mississippi when you finish), but I really like how they had it set up. You rode in, then looped around, and could keep going after, so it didn't feel too congested.
We dipped our tires (Will, Julie and Ashleigh got there before us and waited), took the obligatory pics,
then I went over to the RAGBRAI booth to get a jersey and pin. I didn't care for the official logo (the guy in the hammock) but liked the orange-ish/reddish tank jersey I saw some riders wearing and got that.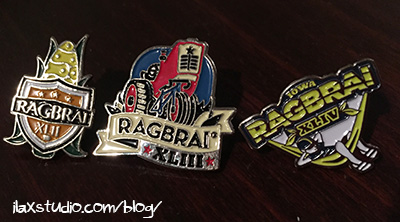 Our spectators didn't get to see us finish, and I didn't think they'd be able to, because of their out of the way drive back to Muscatine. They also stopped and got the other car so we didn't have to drive two miles up hill to get to it (yay!!!!!!!!!!!!) and they got donuts for everyone (awww!).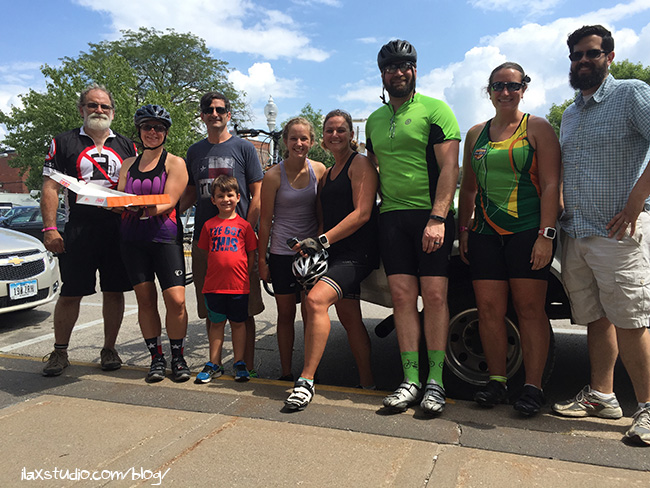 And… another RAGBRAI in the books!
It was really an uneventful ride (minus one ambulance helping a rider and that douchey guy with the drone) and that is a good thing! I love that RAGBRAI is focused on fun and community and EATING! And I love that Gina got to experience it for the first time! And really, that she is part of my family. There were a lot of jokes (and new inside jokes as a result) during this ride. And during our time together after the ride. And in texts after we all returned to our homes. Ha. It brings me so much joy to have a best friend (and her family) that fits in so well with my family.
And Gina is already talking about RAGBRAI 2017. Now comes the slow wait for the course reveal party in January!
By
8 Responses to "RAGBRAI Day 7 2016 – Ride Report"