What do you think someone else would say the most daring thing you've done is? Answer from as many perspectives as you like!
During our run this am, Bobbi was asking me what I didn't like about hang gliding (if all goes as planned, she'll be trying it for the first time tomorrow – check out her comment on my hang gliding post – I held true to my response!). I told her that I felt frightened after the plane released us and we were free gliding without the assistance of a motor. Oddly, I was more frightened than when skydiving or anything else I've done.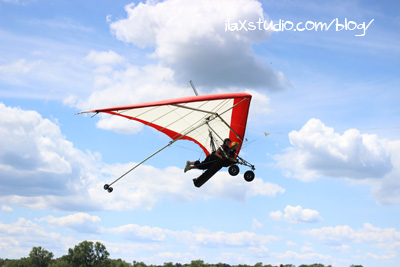 That got me thinking… I think of those activities as somewhat daring, but I bet to some people, they wouldn't be at all. And to others, they would consider other things I do to be more daring, compared to the comfort of their lifestyle. Afterall, the definition of daring is simply: adventurous courage; boldness. It's definitely different for everyone! Hence… the question!
I can think of different people who would probably name these things I've done as "most" daring (or just plan stupid):
lived in a foreign country, alone
traveled to foreign countries, alone
taken a ride from a random stranger in Europe
driven in Chicago traffic
jumped out of an airplane
gone on a helicopter ride
tried trapeze
traveled by myself to do a race
moved away from home
You may read the list and think "what the heck, those things aren't daring!" But that is the thing… everyone perceives it differently. And I bet you've thought of a friend or family member as doing something daring that was "nbd" to them!
So, tell me your list! And maybe think of your family/friends and the things they've done that you've perceived as daring… and let them know it!
By
25 Responses to "Friday Question 254"