Last weekend was my annual December trip to Dallas to see my otra familia – Gina, Steve, Luca, and a new family member, GINGER!!!
Steven didn't come on this trip since he's too busy with work in December to travel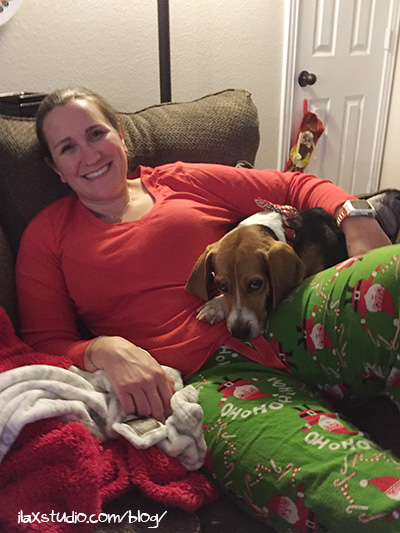 Gina is fantastic at finding fun stuff for us to do when I visit. We did our annual trip to see Santa, tried Goat Yoga (!!!), and went to a "Holiday Balloon Glow"!
We ate at some of my (and their!) favorite restaurants – Silk Road Thai Cuisine and Mellow Mushroom.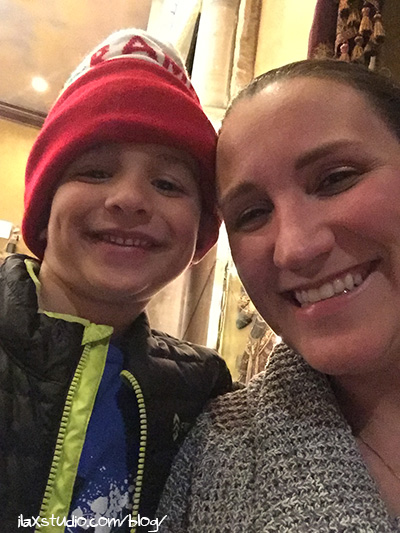 Photo we sent Uncle Steven as we were leaving the Thai restaurant to let him know it was us turning off the holiday lights from afar…
Conversation with Luca at Mellow: "What is Uncle Steven doing right now?" "Draw me what you think he is doing!" (using a weed wacker)
We had some home cooked meals too (Gina found a yummy vegan frittata for me!), including these amazing nachos.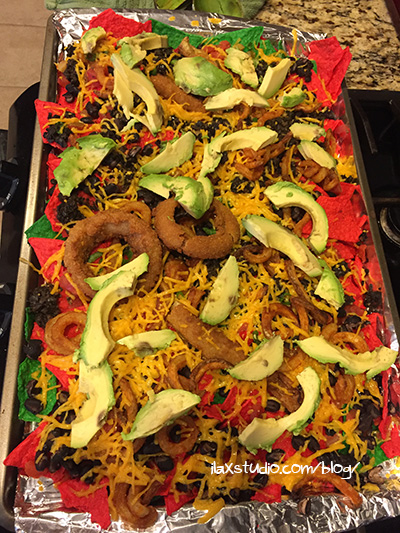 Ha ha ha. On Saturday night, we were talking about nachos for dinner, but decided not to have them. Then on Sunday Steve mentioned the Cowboys vs Giants game was going to be on at noon and we decided we HAD to have nachos for the game… even though we only watched the final quarter. Any reason to make nachos!
On Saturday we were on the go (running, Santa, goat yoga, shopping, lunch, hot air balloons). Sunday was quiet, which I needed, because the cough I had during the week got worse, and I was also dealing with chills and sweats (sweats at night only), and achy lower legs. I was run down. And bonus: I got a bloody nose at the airport (waiting to board the plane home), which was a bit of a disaster.
I'm a bit of a disaster right now. Ugh. I'm grateful I could make my annual trip but bummed my body wasn't feeling 100%! And hopeful I kept all my crudiness to myself. Eek.
On a funner note, now it's time to start planning our 2018 adventures! We reviewed our 2017 visits on Sunday – five visits (March, April, May, July/August, & December). That's pretty good for living so far apart!
I know I've mentioned this many times but it amazes me that I've become close with people I've met online. It makes sense – you meet people who share your interests and are more likely to hit it off when you meet in person because of that, but I suppose the "luck" of it is what blows my mind. How is it that we met friends that are like family to us, and like family to my family?!
By
8 Responses to "Texas, warm me up!"