After all my consternation about the Frosty Footrace, I was back this year. Having it on my calendar in previous years gave me a focus for winter training, and running in the colder temps (30s) is when I excel! I missed training for this 5K last year when it was changed to a "2 mile" untimed "fun" run. I was glad it was changed back to its original 5K course this year.
There definitely were not as many people there as years past though. Seventy-nine people did the 5K, compared to one hundred and sixty-eight in 2016. It felt sparse on the course. I was behind two people for the first two miles, but after I passed them, I spent the last mile with no one in my sights. And I am not that speedy! Usually there'd be more people in front of me. I wonder how next year will go.
We got to the race around 10:15 and easily did race day registration. One of the race organizers came up to me and asked if I was Kim, and thanked me for coming back. I thought that was nice! And I hope I didn't come off as über b*tchy last year when I expressed my disappointment in the "two" mile race format.
I like the bag they handed out this year, and appreciate that they don't do a shirt every year (in the past they've done buffs and hats).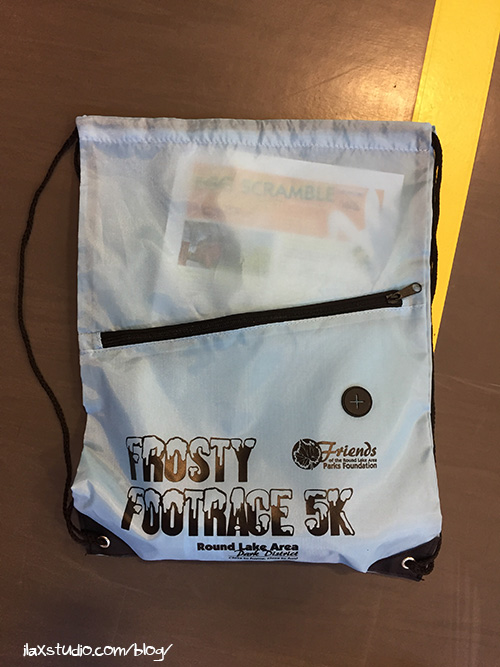 Anne and I did a one mile warm up with a few strides. We also assessed the wind conditions to strategize for the race. We had constant 17mph winds from the WSW with 31 mph gusts (it was 37° when we started and 39° when we finished). Wheeeeeeeeeee! Ha. The race is somewhat of a loop, so we'd have the winds in our face to start, and in parts of the second and third mile, but at our back coming in for the last .4 miles, which was encouraging!
We timed our warmup well to finish it, go to the bathroom one more time, and head to the start!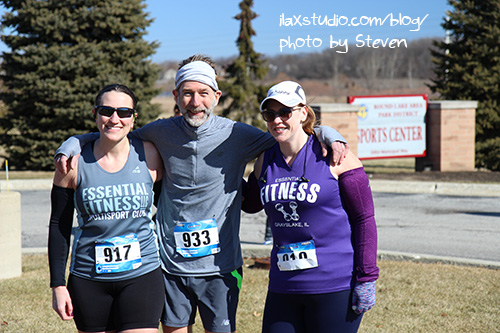 Me, Ricky, and Anne, all representing Efit (where I teach strength classes)
I felt great at the start and my pace felt manageable and easy. I was actually somewhat glad that the wind and hills in the start kept me from going out too fast. My first mile was 7:15 (I was predicting my average pace would be between 7:20-7:30).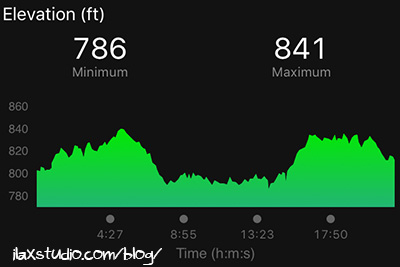 snapshot from two years ago, but same elevation
I passed one male in the beginning of the second mile (the first place female was way ahead of me – she comes every year and wins overall) and enjoyed the downhill portion of the race. I was shocked my second mile was not slower – it was 7:14!
And then the pain starts. Ha. Right after mile two (after I passed one more guy), you start a gradual incline that just burns (see elevation chart above). Steven is always at the start of this incline and I try to look smiley and happy, but the pain starts to show!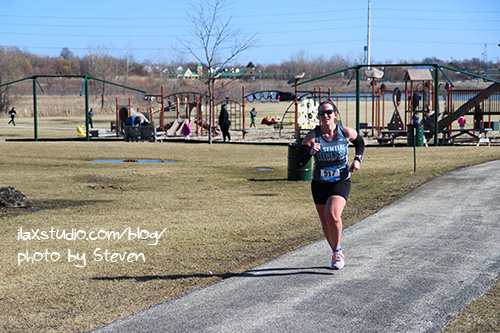 My pace dropped as I ran up that hill, which is typical, but annoying. I didn't want to have wildly positive splits! So I rallied back after I got up the hill, and picked it back up, especially since part of the finish was a downhill with the wind at my back. My third mile was 7:36, and I finished the last .16 (oops) at a 6:43 pace.
My overall time was 23:08, with an average pace of 7:28 <— right where I thought I'd be!
This year is my third fastest time on the course
Even though that is quite off of my PR (from this course) of 21:45, I feel confident about how 5K training is going. This is a tough course, with the inclines (and always with the wind) and I know I could have run faster on a flatter course. We shall see what the next six weeks of training brings!
After the race, I did a 1.5 mile cool down. I ran part of it out on the course with Ricky, to run Anne in and cheer her on. She wanted to get a course PR, but ended up with an overall PR since she started running again a few years ago! Amazing! I am proud of her! (I've been coaching her.)
Anne joined me for the rest of my cool down when she finished, then we hung out for awards. Because the race was so sparsely attended, I was 1st in my age group, 2nd woman, and 4th overall.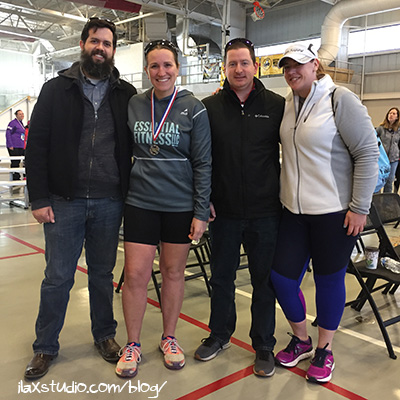 I'm glad I did the race! It was a confidence boost for my 5K training and left me pumped for my next 5K!
By
21 Responses to "Frosty Footrace 5K 2018 Race Report"