Whompitty whomp! I had a trail 5K scheduled in another state this weekend and it was moved out 4 weeks due to flooding at the race site! Maybe I can still make it work. It's funny though – I signed up because I was going to be in town. Ha ha.  Now I am trying to convince my dad to train and run it with me. Four weeks is TOTALLY enough time. Trail 5ks are a cinch… muah ha ha. Have you ever signed up for a race and had it rescheduled?
I met Heather for lunch on Friday. FINALLY! We live so close! What took so long? Hee hee. I was telling Heather about Fake Meats and realized… I don't talk about it enough on here… since she didn't even know about it! So I added a Fake Meats ad on the sidebar. Yep, the day after writing about using bloggers for marketing, I am doing it myself. But, hey – it's OUR business!!! Buy Fake Meats, yo.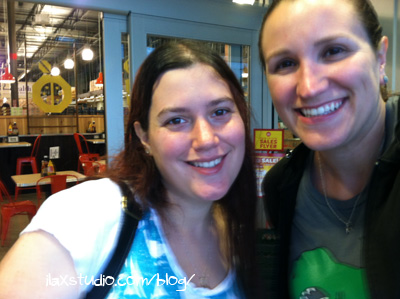 Heather and Kim
I am super surprised I made it to 100 miles run for the month, since I totally crapped out last month! Hee hee. I think having two halves on the schedule helped with that! Now… what is going to keep me going through July?! Chirp, chirp… 
Did you see this article (pdf here) on the NY Times Well blog about how your pronation style doesn't really affect your running? Super interesting. What is your pronation style? I severely supinate. Or, as the article calls it, severely underpronate. Or as the ACE manual sometimes calls it, inversion.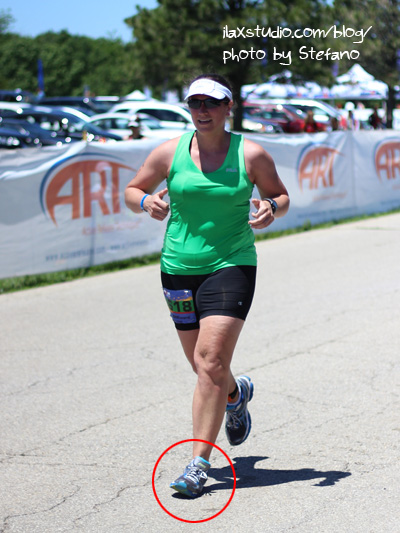 I've mentioned before that I feel like I never know what to say when people ask "What's new?" But! I recently came up with something! I could talk about my sister's upcoming 6/14/14 wedding! You guys aren't getting sick of hearing about that, right? Good, because our latest racerback tan line talk cracked me up. Christina found a bridesmaid dress she likes, and I claimed that it would cover my crazy tan, and here is her response: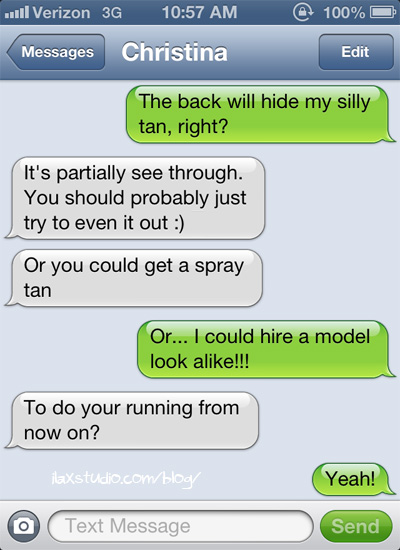 This thought deserves a post of its own, but I have been thinking about the different personalities I have depending on who I am around. I mean, they are all mostly some version of goofy Kim, but I was thinking about this because Anne and I are SUPER sarcastic with one another.  And I am not really like that with anyone else, except maybe my brother-in-law. 
Other Random Thoughts Thursday Posts: 43, 42, 41, 40, 39, 38, XXXVII, XXXVI, XXXV, XXXIV, XXXIII, XXXII, XXXI, XXX, XXIX, XVIII, XXVII, XXVI, XXV, XXIV, XXIII, XXII, XXI, XX, XIX, XVIII, XVII, XVI, XV, XIV, XIII, XII, XI, X, IX, VIII, VII, VI, V, IV, III, II, I.
By
25 Responses to "Random Thoughts Thursday 44"